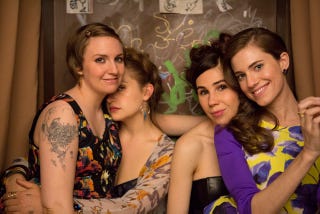 Plenty of TV series are populated by people behaving badly—e.g., Breaking Bad, House of Cards, It's Always Sunny in Philadelphia. But not all unsavory characters are created equal. Returning for its third season on Sunday, Girls has given us something different than the typical small-screen antihero: a landscape in which its pathetic characters are the biggest bunch of screw-ups, failures and general disaster areas. There's nothing lovable or endearingly misanthropic about them—and that's the point.
When Girls premiered in April 2012, it carried significant expectations. Dunham, who hadn't yet turned 26, was a rising star, having two years earlier written, directed and starred in the acclaimed indie Tiny Furniture, where she played a flailing, spoiled film-school graduate trying to make sense of her life back home in New York City. Tiny Furniture established the tone Dunham would bring to Girls: navel-gazing interest in the lives of privileged, bratty, artsy white twentysomethings. The dialogue was glib, but also observant about that period in a person's development when he or she is struggling to say goodbye to adolescence and get on with becoming a grownup.
From the beginning, Girls has received plenty of glowing reviews, with critics praising its writing, its ironic humor and its examination of Millennial hardships. But when Season Two ended in March of last year, it was clear that this sometimes uncomfortable comedy (which had started to feel more like a drama with one-liners) was never going to please a vocal percentage of its audience. For some, like Los Angeles Times critic Mary McNamara, the show's problem was that it was too calculatedly "shocking," especially when it came to the frequent nudity of Hannah (played by Dunham), whose sexual hang-ups have long been one of the show's core tenets. "[L]ately watching Girls … just makes me feel old," McNamara lamented in a 2013 piece entitled "Nudity and Graphic Sex? Lena Dunham and Girls Can Do Better." Further expressing her disappointment, McNamara added that the show made her "impatient in a vaguely maternal way, like when you see a lovely but irritating wild child running naked around the playground, shouting 'vagina' at everyone and peeing in the sandbox."
Along the same prudish lines, Bill Persky, the co-creator of the 1960s Marlo Thomas sitcom That Girl—a Girls forerunner of sorts—complained in Time that Dunham was creating a bad example for young women by depicting her character as someone who sleeps around and tries cocaine. "As the father of three daughters, one stepdaughter, two granddaughters and five goddaughters, I know that, beyond the input of our family, they are the product of the environment around them," Persky wrote. "You would think that a young female talent like Lena Dunham would be showing her generation a way up, rather than reinforcing the idea that it's cool to be down."
These sorts of grumbles have an inescapable air of tsk-tsk-tsk—of an older generation scolding a younger one about the ways they "should" be creating their TV shows. (And to be fair, it's hardly just older people taking Dunham to task: Gawker and Defamer have made a habit of criticizing Dunham's white-hot media image as a Millennial spokesperson, mocking her show's dependence on "white people problems" for its storylines.) Of course, Girls sets itself up for such handwringing precisely because it's so unapologetically brash—it's enjoyed riling up the easily offended from the start. Early in Season One, Hannah's bohemian friend Jessa (Jemima Kirke) pondered getting an abortion, an event that was accompanied by zero moralistic brow-furrowing. In Season Two, Hannah's on-again/off-again boyfriend—the moody, recovering alcoholic artist Adam (Adam Driver)—made his new girlfriend Natalia (Shiri Appleby) get on all fours before he had rough sex with her, which provoked some fans to describe the encounter as rape. ("Did what Adam do constitute rape? That's hard for me to answer," Dunham said later about the scene. "I'm a rabid feminist. And no woman should ever be placed in a sexual situation that leaves her feeling degraded or compromised. … To me, it seemed like a terrible miscommunication between two people who didn't know what they really wanted.")