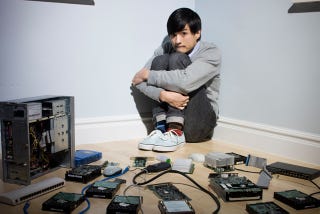 Even Miley Cyrus blames it on porn. "[Miley's] reluctance to trust has made dating fraught since she and the 24-year-old Australian actor Liam Hemsworth ended their one-year engagement last September," Ronan Farrow wrote in the February issue of W magazine. "'Guys watch too much porn,' she confides, absently prodding a bedazzled iPhone. 'Those girls don't exist. They're not real girls.'"
Miley falls into the same trap that a lot of so-called experts fall into: That the ubiquity of porn has made men from the "internet generation" bad at dating. Stanford psychologist Phil Zambardo calls it an "arousal addiction" in his "Demise of Guys" TED Talk. Ian Kerner, the guy who started goodinbed.com, calls it "SADD" or Sexual Attention Deficit Disorder. "Guys with SADD have become so accustomed to the high levels of visual novelty and stimulation that comes from internet porn that they're unable to focus on real sex with a real woman," Kerner has explained.
Even my friend Jack, 25, a DJ living somewhere in Europe, when asked if he thought he was part of the internet generation, replied, "Of course I am—my sense of sexuality was spoiled by a pre-pubescent over-exposure to hardcore pornography."
I, too, am firmly part of the millennial generation, which supposedly started in 1982 and ended in 2004. (I was born in 1991.) The first computer showed up in my house in 1995, so I don't really remember life pre-AOL or the 56k modem. I do, however, remember searching for "britney spears naked" when I was 8-years-old. My mom found it in the browser's history, and I definitely remember her yelling at me because of it.
My life has been characterized by instant access—to porn, yes, but also to information and people. So in my opinion, millennial men aren't bad at dating because we watch too much porn. We're bad at dating because we watch too much everything: viral videos, GIFs, social media. Our lives revolve around screens. And what we're usually watching on them is ourselves.