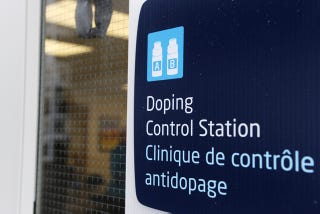 The overlords of the world's anti-doping movement really want you to focus on Lance Armstrong. He's as unsympathetic a character as Barry Bonds, with his bullying, posturing and all-around ass-holery. So since they worked hand-in-glove with federal agents to expose Armstrong's doping operation, and cornered him into confessing to Oprah, they've taken an extended victory lap. To them, their triumph validates their new approach to policing dopers—more investigations and government pressure, on top of an already invasive drug-testing regime.
But please ignore Jimmy Connelly.
Connelly, 24, a New Jersey resident and son of a police officer, who had his own run-in with the United States Anti-Doping Agency (USADA) a taxpayer funded non-profit outfit, is much more like the athletes you'll see in the upcoming Sochi Olympics. He isn't rich or famous, but playing sports was his job. And despite being born with spina bifida, he was good at it. For seven years, he was a member of the U.S. national Paralympic sled hockey team, winning gold in the 2010 Vancouver Games.
Once he joined the elite squad in 2005, though, Connelly discovered an uncomfortable fact of life faced by all such athletes: He was going to be treated like a criminal.
In short, Olympic athletes are presumed guilty when it comes to doping, leaving them subject to secretive investigations and surveillance, privacy invasions, sketchy science and, some argue, a rigged justice system. And unlike their MLB, NFL, NBA or NHL counterparts, they enjoy no union or collective body that can serve as a counterweight to the agencies and protect their rights though they are workers in the sports entertainment business just like athletes in pro leagues.
All of which leaves Olympians like Connelly on the front lines of a new War on Drugs, which is being waged much like the old, failed War on Drugs. Like the old War, this new one is fought with investigatory zealotry, plea bargains and draconian sentences, and fueled by a manufactured moral panic. All worth it, you might argue, to combat the use of PEDs in sports. But not only is the strategy doomed to fail, it carries risks for the rest of society—including you and me.
"I was a prosecutor during the war on drugs," DeMaurice Smith, head of the NFL Players Association and a former assistant U.S. attorney says of the World Anti-Doping Agency (WADA) system, "and anti-doping has taken on this culture of enforcement while at the same time refusing to be transparent."
While some athletes object (usually privately) to the new WADA code, some do favor the tougher restrictions. Faced with a long history of drug use—from the state-sponsored doping of the former East Germany, through the individual users like sprinter Ben Johnson, to Armstrong's Postal Service cycling team—they don't want to feel like they have to take a drug to compete.
Protecting clean athletes and saving the Olympic brand was the original rationale behind the creation of WADA. The International Olympic Committee (IOC) had long run its own drug-testing regime, but critics often accused it and national Olympic committees such as the USOC of playing down doping in an effort to keep the Olympic brand unsullied. Then, during the 1998 Tour de France, evidence emerged that at least one cycling team, Festina, was running an organized doping operation. The ensuing scandal nearly collapsed the Tour. Unable to downplay doping any longer, the IOC created WADA as an independent body—though IOC members make up half of WADA's board, the other half being government representatives.
WADA was set up to establish and oversee the rules and regulations used to test athletes for banned drugs. Screenings would be conducted, for the most part, at events. But even at the outset, WADA strayed from its core mission of eradicating PEDs, because the old Drug War was in its DNA, so much so that the White House Office of National Drug Control Policy, the U.S. "drug czar," partly spearheaded WADA's creation. At the office's insistence, WADA's banned drugs included—and still includes—marijuana, which has no performance enhancement value. That's what got Connelly.
---
Connelly heard the loud rapping on his hotel room door at precisely 6 A.M. Dope testers roused him early on the morning of the 2009 World Championship gold medal game demanding a urine sample on the spot.
Under WADA's code, an athlete can be tested anywhere, any time except between the hours of 11 P.M. and 6 A.M. Finding Connelly was easy because he was at an event, but it doesn't matter where an athlete is because they have to follow the so-called Whereabouts Rule—meaning they must report where they will be for every hour, every day of their lives to a central authority, which can then share that private information with agencies all over the world. Not long ago, dope testers used the Whereabouts Rule to pull American skier Lindsey Vonn from the red carpet of a fashion event to demand that she pee in a cup.
Under the revised code taking effect in 2015, no time is off limits. Doping control officers can show up at an athlete's home or hotel room in the middle of the night and demand blood or urine. All they need is "serious and specific suspicion that the athlete may be engaged in doping." Refusal to submit will result in job loss.
Connelly was a target for testing because he was on a winning team and because he'd already been tagged with one doping offense. Connelly sometimes smoked weed to relieve nerve and muscle pain caused by his spina bifida. He always stopped before any competitions, but marijuana metabolites can linger in the body for weeks. During an April 2009 tournament in Rochester, New York, he was forced to urinate into cups while a doping control officer watched. Once his sample tested positive for THC, he was publicly labeled a doper by USADA and banned for three months. The ban didn't have much effect on his career, but it made him a preferred suspect for future testing. "I was tested at every event after that," he says, sometimes multiple times.
Positive tests come with harsh mandatory minimums. Anti-doping advocates see them as a deterrent to drug use—in much the same way legislatures employed tough sentencing guidelines for the previous War on Drugs. The standard competition ban used to be two years with time shaved off if, for example, an athlete could show that a positive test resulted from an inadvertent ingestion of something, or, as in Connelly's case, there was clearly no attempt to cheat. But under the revised code, the standard ban is four years, a career-ender for most athletes. The code does include a way to reduce that penalty, though: Finger others for doping and you can shave your time. Conversely, if you fight the charges, your ban can be extended.
Despite the expansive testing regime, it never snagged Armstrong. USADA's investigation of him and his subsequent confession crystallized a dilemma faced by every anti-doping organization in the world. "The question for WADA then became, 'How do you cope with failure?'" says University of Texas professor John Hoberman, who has long researched and written about the Olympics and drug use.