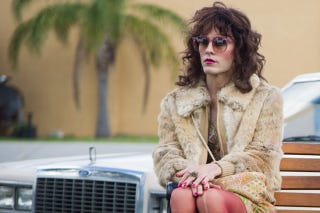 Jared Leto's performance in Dallas Buyers Club annoyed me from the first moment his character, Rayon, a transgender woman, appeared on screen. She peeked around a curtain in the hospital like a stalking cat, looking to snatch a glimpse of the half-naked man in the bed next to her. Her action sent a message that carried throughout film: This character was weird, and as the movie's protagonist Ron Woodroof (played by Matthew McConaughey) would explicitly tell us, she couldn't be trusted.
But what annoyed me even more was how heavy-handed and stereotypical Leto's performance was—from Rayon's makeup to her behavior. Leto, a cisgender (a person who identifies as the gender they were born with) man, threw on some blush, a hair net and pink nail polish, raised the octave of his voice, put a lilt into his walk and voila! He had become a trans woman. Add in some self-hatred, a drug addiction and an illicit way of making cash, and Hollywood's cliché of a trans person was complete.
Filmmakers and actors like Leto seem to confuse being transgender with being a drag queen. And they can't conceive of them as being part of the mainstream. From Rayon in Dallas Buyers Club to a hooker in Dirty Sexy Money to a convict in Orange Is the New Black, depictions in contemporary film and television marginalize trans people by showing them as existing on the fringes of society.
On Sunday, the Academy of Motion Picture Arts & Sciences will likely give Leto a Best Supporting Actor Oscar for his performance as Rayon. But for me, he'll be lauded for playing a modern-day Al Jolson, a lazy caricature of a minority—this time in a kind of "pinkface." And if the last couple of months are any indication, he'll ignore the disgust the trans community has aimed at his portrayal and fail to acknowledge any of the brave souls who came before Rayon. At times on the awards circuit, it's even seemed as though he's treated Rayon as the butt of a joke. For instance, when he accepted the Golden Globe for Best Supporting Actor in a Motion Picture, Leto spent most of his speech cracking wise about his "tiny little Brazilian bubble butt" and reducing his transformation for the role to getting the hair on his body waxed.
I recognize that Rayon is a fictional composite of various trans people. But I don't recognize Rayon in any of the trans people I know. The trans people I know don't feel the need to make passes at every straight man around them. They don't dress like prostitutes. They don't drown their sorrows in drugs. And they don't have other people fight their battles for them.
Christina Kahrl is a baseball editor for ESPN, a deeply respected professional in a high-profile line of work. Chris Mosier is a star triathlete who once kicked women's butts in races and now dominates the men. Janet Mock and Kye Allums have taken on the burden to educate the public about trans issues. Pauline Park is a PhD who is pushing for—and earning—trans equality in New York City. To a person, they are respectable, hard-working and loyal. In other words, their lives aren't any different than the lives of cis people.