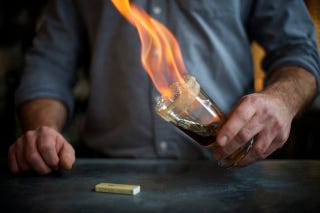 While working behind the bar the other night, a guest visiting Portland for the first time asked me which drink was considered the city's quintessential cocktail. Admittedly, the Pacific Northwest doesn't have the rich cocktail history that other places boast. There is no Ramos Gin Fizz (New Orleans), Manhattan (NYC) or Brandy Old Fashioned (Wisconsin)—i.e., cocktails that have been around seemingly as long as the region itself.
There is, however, the Spanish Coffee, the brainchild of local bartender James Kai Louie. He started making it in the early 1970s at Portland's oldest restaurant, Huber's (est. 1879). Today, you'd be hard-pressed to find a bartender here that isn't intimately familiar with its warm glow, rich aroma and labor-intensive preparation.
Yet the Spanish Coffee is virtually unheard of outside my corner of the world. And so, when my friends and I try to order it anywhere else, we are met with blank stares. I say, no more! From here on out, let Spanish Coffee dominate bar menus everywhere!
Named after the long pour favored by Spanish waiters and bartenders when serving Txakoli wine (and you thought the name was just an ironic Portlandia thing), a true Spanish Coffee is a spectacle. The bartender or server begins with a sugar-rimmed glass containing 151-proof rum, which they then light on fire. (I know, fire is becoming a recurring theme.) Next, in a show of bravado and technical superiority, they pour triple sec and Kahlua into the flaming glass from several feet above, usually with the bottle held over their head or behind their back. It's Old World artistry meets Vegas flair as the flames dance higher and higher in the glass.