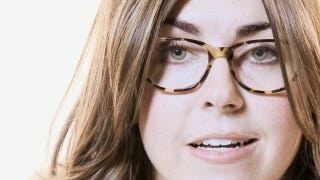 Minutes after I met Joanna Van Vleck, she was telling me about an instructional video she had made to demonstrate a new approach to the blow job. "There's a clitoris in your throat," she said. "Once you reach it, you can suck a cock for an hour."
This wasn't just a male fantasy out of Deep Throat, she insisted. It was a completely new approach that focused on the pleasure of women. I was struck by how insistent and cheerful she was about it. She came across as a missionary for the life-transforming potential of progressive oral sex.
She also starred in the video, she added. "So soon you'll see me sucking cock."
Send me that video the instant it's available for review, I told her.
I knew that Joanna was president of a group called One Taste, which was in my vague impression some kind of San Francisco sex cult that practiced group masturbation. This isn't necessarily a bad thing in my universe. From the playroom of Sandstone to the orgies of Rajneesh to the "complex marriages" practiced by the Perfectionist communities at Oneida and Wallingford in the 19th century, the dream of sexual utopia has always fascinated me. It might be crazy, but it's also a formalized and systemic approach to the journey we all go through in the march toward freedom and self-acceptance. And spending an hour or two talking to an attractive woman about sex isn't exactly painful—especially when you say you might want to check out this orgasmic meditation thing and a big smile breaks out on her face. "I'll teach you!"
A few weeks later, Joanna sent me a link to the video, which was called Oral Sex For Her Pleasure. The blurbs were certainly promising:
Sucking cock for my own pleasure changed the way I related with men. Before I did it out of obligation or to make him feel good. Now the primary reason is because I have a hungry desire and lust for cock.—Yia V.

The first time I sucked a cock for my own pleasure, I took him all the way into my mouth, and I could feel the pulsing of his cock in my pussy. I had no idea it could be that intensely pleasurable.—Lianna
I watched the video with my wife. Joanna began with a perky monologue about shifting the blow-job paradigm from a porny, servicing-the-man approach to a more empowered female approach that is sensual and non-goal-oriented. "When I do it for me," the message is, "he gets more of what he wants." The instructional blow job that followed was shot in a white room with a naturalistic Zen style and lasted about 15 minutes. It didn't feel like porn because it seemed so healthy and female-focused, alternating a meditative peaks-and-valley sensual style with periods of animalistic deep throating that didn't seem to be striving for effect, which was pretty striking in itself. It reminded me of how the porn star and writer Ashley Blue shoves her hand in her mouth as a way of turning herself on. It's hot because she's doing it for herself. But my wife said she thought this whole "clitoris-like structure in the throat" sounded questionable—if it was a real scientific thing, she would have heard of it.
I talked to Joanna a few days later, and she told me the video is the first in a series—the next is about making out—dedicated to the slow sex concept. "The whole idea is when you practice Orgasmic Mediation your sex becomes different."
So what is Orgasmic Meditation? It's a sexual practice—bear with me, it sounds ridiculous—where a woman spreads her legs and the person sitting next to her gently caresses the upper-left quadrant of her clitoris for exactly 15 minutes. You can hear the founder's pitch in this Ted talk or get a vivid participation-journalism take on it in this article from Gawker, but it might be enough to know that the classes are expensive and involve confessions and confrontations of the encounter-group-therapy type—not, to my mind, promising signs. It's also a little weird that when One Tasters say "orgasm" they don't actually mean "orgasm" but a kind of generalized arousal or hyper-sensuality, which is the approach they're trying to promote with this new instructional video sideline.