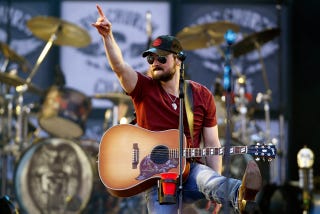 When did the "rock star" label start being applied chiefly to people who weren't actual rock stars? The term once referred to the men who commanded huge arena audiences around the world, flashing their monstrous power chords and flaunting their indulgent drum solos. But as rock music lost its cachet in the 21st century, that cultural image morphed into a punch line, a symbol for an antiquated musical style that's as passé as the tape decks that used to house its songs. Now when we call a person a rock star, we're describing anyone who's achieved global stardom—e.g., Pope Francis appearing on the cover of Rolling Stone—or someone who's behaved in public in such a dick-ish, entitled manner that he conjures up images of Led Zeppelin-esque debauchery.
Other musical genres have tried to appropriate the rock-star mantle for themselves, specifically rap, where artists such as Jay Z headline traditionally rock-centric festivals and name-check acts such as Nirvana in their songs. But the style most closely aligned to rock 'n' roll these days is actually country. This development has been underway for a while, but the arrival of Eric Church's new album, The Outsiders, leaves little doubt about the symbolic baton-passing.
The lazy assumptions about the two styles go like this: Rock is sex, drugs and rebellion, while country is niche hick music best appreciated by rednecks, right-wingers and tear-in-my-beer saps. Even worse, at the same time that rock channeled the zeitgeist—shaping the Summer of Love, reflecting the civil rights movement, giving voice to the baby-boomer generation, condemning the Vietnam War—country retreated into a vision of an idealized rural America that celebrated the "Okie from Muskogee."
Neither styles' assumed legacy is entirely accurate, however. Country rewrote its narrative about 25 years ago when Garth Brooks made major inroads on the pop charts, his Ropin' the Wind ending up as 1991's bestselling album. Since then, country has been a viable mainstream commodity, with acts like Dixie Chicks, Faith Hill, Shania Twain and Kenny Chesney becoming household names. (Although, as Dixie Chicks learned the hard way by speaking out against George W. Bush in the buildup to the Iraq War, some country music fans don't take kindly to progressive viewpoints, with several stations pulling the trio's songs from their playlist.)
Simultaneously, rock has crawled into a hole and hid, content to live off its illustrious past. (Small wonder that the rock artists who got the biggest reception at last month's Grammys were seventysomethings Paul McCartney and Ringo Starr.) There is still social protestcoming from rock artists such as Bruce Springsteen and Pearl Jam—and younger groups like Arcade Fire are trying to broaden the sound's stylistic range—but little of it feels urgent or inspired. And even Arcade Fire front man Win Butler seems embarrassed by his genre, singing on the band's most recent album, "Do you like rock 'n' roll music? Because I don't know if I do."