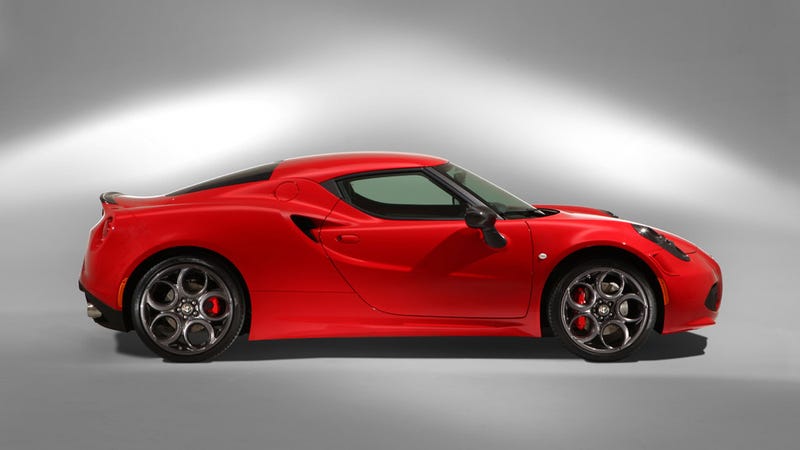 Nobody was more thrilled than Playboy when Fiat CEO Sergio Marchionne announced that Italy's Alfa Romeo, which Fiat owns, would roll the dice and return to the United States for the first time since 1995. "For sure it's coming back this year with the 4C," Marchionne said last January, speaking of the Alfa's slick sports coupe. Now, however, Marchionne has put the brakes on Alfa's American resurrection. We're not likely to see the two-seater until the spring of next year, the company announced in late September. So, it is with regret that we add the 4C to the following list of seven hot wheels that foreigners can enjoy and Americans cannot. Read, and weep.
---
Lotus Elise
Arguably, there is no road car more fun to drive than the Elise. It's like a racing go-kart for the street. The handling is superior to just about anything you can buy for under $100,000. The British car packs a 1.6-liter Toyota engine just behind the cockpit, pumping out 134 horsepower. That might not sound like much, but for a car that weighs little more than a matchbook, it's plenty. Base price is in the neighborhood of $60,000, but maybe we should quote the price in pounds, because England is the closest place to buy a new one.
---
Land Rover Defender
Is it a military truck? A safari-mobile? It has served as both. But what it really is: a British SUV that kicks ass on-road and off. The truck's rugged looks require a driver with large biceps, perhaps a mustache and a foreign accent. The Defender starts at around $36,000. It comes with a 2.2-liter four-cylinder diesel with tons of low-end torque for tough terrain. It used to be available in the United States, but Land Rover pulled it because it didn't meet safety regs. Time to write your congressman.
---
Audi A1
In Europe, this diminutive runabout buzzes all over the place. The A1 is a direct competitor of Mini across the pond, featuring simple lines and impressive fuel economy. The top-end engine—a 252-horsepower 2.0 TFSI—will power the car more than 150 mph. Built at Audi's factory in Belgium and sold all over the continent, the A1 features bulletproof engineering and an affordable price tag starting around $25,000, making it a perfect choice for young professionals.
---
Geely Panda
Jalopnik called this ride "freaking adorable," and we have to agree. It literally resembles a panda. The car to own in Shanghai if you're young and fashionable, the Geely Panda is considered China's safest hatchback. It packs a choice of small engines, starts at under $12,000 and is sold in various countries in the Far East and the southern hemisphere.
---
Peugeot RCZ
Critics rave about the $36,000 RCZ's styling. One called it "straight out of the 1960s Le Mans playbook." The R version also happens to be the most powerful production-model Peugeot has ever marketed (which sounds more impressive than it should, given that the turbo 1.6-liter four-cylinder pumps only 270 horsepower). Even with the nice performance improvements, this car, like a couture collection heading down a Parisian runway, is more about fashion than function.
---
BMW M135i
This might be the coolest hatchback we've ever laid eyes on. It boasts 320 horsepower, available eight-speed automatic transmission, zero to 62 mph in under five seconds, a tag starting at about $49,000 and a 155 mph top speed. All that power is matched to a body that appears part family car, part Herman Munster–mobile. We mean that in the best possible way.
---
Alfa Romeo 4C
Alfa reportedly plans to initially build just 3,500 4Cs annually—at Maserati's factory in Modena, Italy. (Fiat owns nearly everything automotive in Italy, including Maserati and Alfa Romeo.) The gorgeous styling speaks for itself. The performance numbers are just as impressive: turbocharged 1.75-liter I-4 engine producing 237 horsepower, zero to 60 in about 4.5 seconds and 24 city/32 highway mpg. All of which means there will be no delay in sales when the car finally arrives stateside.
---
This article was originally published on Playboy for iPhone. For more exclusive content and the best articles from the latest issue of Playboy, download the app in the iTunes Store.
Photos courtesy of Alfa Romeo; The Pug Father/Flickr (Lotus); Land Rover MENA/Flickr; Audi; Geely; Peugeot; BMW

*Correction: A previous version of this article included a picture of an Audi A3, it has been updated to show the A1 (h/t JohnPlayerSpecial)