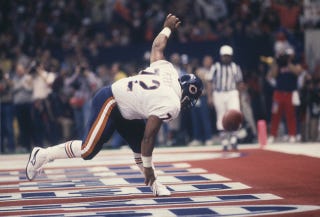 When the Seattle Seahawks and Denver Broncos take the field in New York—well, technically, the swamps of New Jersey—for Super Bowl XLVIII, millions and millions of dollars will hang in the balance. How much money are we talking? Last year's Super Bowl generated nearly $100 million in wagering in Nevada alone (and who knows how much is being bet in the wild west of online sports books). Oddsmakers predict betting on this year's edition will eclipse the $100-million mark, making it the most bet-upon sporting event in modern history.
In many ways, Super Bowl gambling has become a microcosm of how enormous and peculiar America's favorite sporting event has become. The wagers, like the game, are no longer just about winning and losing. Everything surrounding it is its own story to be picked apart.
In other words, money can be won on some pretty odd shit.
Last year, roughly 30 percent of the action was on proposition bets, or props, which offer the opportunity to bet odds on one specific aspect of the game—from MVP to the number of receiving yards Wes Welker will have. But it's the off-the-field props that prove most interesting, like betting on whether the National Anthem singer will wear gloves and what color Gatorade the winning team will pour on its coach.
Most gambling experts credit a 1985 Super Bowl prop bet on whether William "The Refrigerator" Perry would score as the event that set all this in motion. "The [Perry] odds changed everything," remembers Jason McCormick, director of race and sports at Red Rock Casino Resort & Spa. Since Perry's (in)famous end-zone plunge, oddsmakers have gotten increasingly creative with their props—especially in online books, which are governed by different (read: more lax) laws.
As such, we've consulted with some of Vegas' top bookmakers, professional gamblers and online sports books for insight into our favorite Super Bowl props. Even if you don't plan on gambling, their take on the Super Bowl doubles as a great viewers' guide for the game.
Try to Make Heads or Tails of It
Too many betting "experts" (we're looking at you, Bill Simmons) fall prey to magical thinking—they believe certain teams have to win because teams in their situations (say, road underdogs) always win on a certain stage. The truth: Every game—and every wager—is an independent event. Nowhere is this more evident than with the even-money prop about the pre-game coin flip, which has come up heads for the last five Super Bowls. Does this mean this year's will be tails? Here's a hint: It's 50/50.
Who Will Score the First Touchdown?
It's the prop that gets the most action from the general public. This year, the favorites are Marshawn Lynch for Seattle at 9/2 and Demaryius Thomas for Denver at 4/1. The Lynch bet seems to be the most sensible; he has scored three of the Seahawks' four touchdowns in this year's playoffs. Seattle's WRs aren't that enticing because quarterback Russell Wilson reserves his heroics for late in the game (his last four TD passes have been in the fourth quarter). All that said, longshots tend to hit, like last year, when Anquan Boldin cashed in on 17/2 odds. And in Super Bowl XLI, the first TD bet accounted for one of the costliest props ever (for the books at least) when Chicago Bears return man Devin Hester took back the opening kickoff for a touchdown despite 25/1 odds.
Do the Safety Dance
Safeties don't happen that frequently over the course of an NFL season—there were just 20 in the league this year over 256 games. In a statistical oddity, however, the defense has forced one in each of the last three Super Bowls. This trend has affected odds accordingly; odds on a safety were around 10/1 in 2011 and had dropped to 8/1 by last year. This year, most books hung odds at 7/1 or 6/1. "If you believe that these things run in trends, this could be a really smart bet to make," says Jay Rood, MGM Resorts' vice president of race and sports.
Will America's Favorite Cornerback Get a Taunting Penalty?
You can win $400 on a $100 bet if you say yes, but Richard Sherman doesn't have beef with Wes Welker like he does with Michael Crabtree. At least we don't think he does.
A Sure Thing From On High
With competitors from Washington and Colorado—the only states to officially legalize marijuana—this particular matchup could be called the Ganja Bowl. So much so that oddsmakers at Bovada have translated this concept into a betting line. Earlier this week, the site was offering a prop on whether the announcers would say the word "marijuana" during the game. A $100 bet on the affirmative could net you $350 if they do. That's enough dime bags to get slapped with an intent-to-distribute charge.
The Rockets Red Glare
The National Anthem always generates action on the prop board, and this year should be no different. One hiccup: opera singer Renée Fleming, the surprise choice to sing it. Kevin Bradley, sports book manager at Bovada, describes the classically trained vocalist as "a bit of an unknown with not too much past anthem information to go off of." And so, he admits, "It wasn't easy to set a line." Case in point: the total running time for the anthem is 2 minutes and 25 seconds, a whole 15 seconds more than the average for previous years. "We felt that since she is an opera singer, she will be more likely to take her time and drag out notes," he explains. In 2011, many online bettors griped when anthem crooner Christina Aguilera fumbled some words, insisting that their (losing) wagers be voided. But don't let that history deter you. When oddsmakers admit weakness, it's time to pounce.
Will Any Members of the Red Hot Chili Peppers Perform Shirtless at Halftime?
Easy money.
You Can Cash In If Knowshon Moreno Cries
After crying freakishly huge tears during a game at Kansas City in early December, Denver RB Knowshon Moreno established himself as the most sensitive man in the NFL. Bovada bookmakers have responded with a related prop, offering significant odds (+400 for yes; -700 for no) if he breaks down during the national anthem. Considering the stage, and that Sports Illustrated's Tim Layden reports the KC cry wasn't a one-off event, wager on waterworks.
Betting on 'Omaha!'
Manning has put Omaha, Nebraska, on the map during this year's playoffs, working the city's name into his snap count in wins over San Diego and New England. Against the Chargers, he barked it 44 times and drew five offside penalties. A week later, against the Patriots, he yelled, "Omaha" 31 times, but couldn't get opposing linemen to budge. For Sunday's game, Bovada has hung the "Omaha" total at 27.5, and Bradley says more than two-thirds of the action has been on the over. Our advice: Beware. Because the "Omaha!" strategy didn't work against the Patriots, Manning might have thought of a new snap count word (Missoula? Topeka?), so he might not give a shout out to Nebraska at all.
Total Number of Times Joe Buck says "Polar Vortex"
No one has posted lines yet. But we'll put the over/under at 7,000.
Total Number of Times Troy Aikman Goes Dead Silent, Not Understanding What "Polar Vortex" Means
As many times as Buck says it. If available, parlay with your previous bet to maximize profits.
Want to Win Big? Bet On Something Other Than the Super Bowl
Here's a secret about Super Bowl Sunday: Oddsmakers put so much energy into odds and lines for the Big Game that they often overlook basic lines on different games in other sports. This means that most bettors can get good value from wagering on at least one non-football contest—especially if they do their homework. This year, alternate pickings on the pro circuit are slim: Orlando plays Boston in the NBA, while NHL matchups pit Detroit against Washington and Winnipeg against Montreal. College basketball provides a host of what are likely to be more "bettable" options, especially if you look at underdogs to cover in the first half on the road.
What, You Didn't Think We'd Tell You Who'd Win?
The odds-on favorite for this weekend's big game depends on a) whom you ask and b) when you ask them. Immediately following the NFC and AFC championship games, in most books the early pick was Seattle, which had a 1-point edge. But as the first few days of betting came in, the odds swung the other way sharply, settling on Denver as a 2.5-point favorite. Word on the street is that most early betting comes from "sharps" and "Wise Guys," both of whom are anticipating that Peyton Manning will tie his brother's Super Bowl total on Eli's home field. Our take? They don't call 'em "wise" guys for nothing—pick the Broncos.
---
This article was originally published on Playboy for iPhone. For more exclusive content and the best articles from the latest issue of Playboy, download the app in the iTunes Store.
Photo by Focus on Sport/Getty