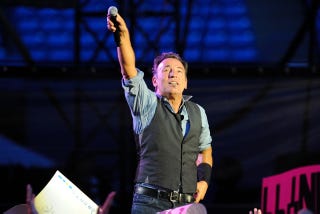 As good as Bruce Springsteen's music can still be, he feels more like a corporation than a human being these days. But where corporate brands want you to buy into their vision of being "cutting-edge," Springsteen hawks earnestness—a proudly square and principled belief in old-fashioned liberal American values and common-man sanctity. And like a lot of ubiquitous brands' sales pitches, Springsteen's is an oddly impersonal message meant to reach the cheap seats. Even his best songs nowadays can feel like slogans.
The arrival of his latest album High Hopes, a collection of covers, revamped older songs and studio outtakes, drives this point home precisely because its 12 tracks span Springsteen's late-career renaissance of the past 15 years. "American Skin (41 Shots)" was originally written in 2001 in the wake of Amadou Diallo's killing by the NYPD. The George W. Bush allegory "Harry's Place" started out as leftover lyrics from The Rising, Springsteen's 2002 response to 9/11. And the album's production, credited partly to Ron Aniello and Brendan O'Brien, reflects the amped-up sound the two men have brought to recent Springsteen albums like Wrecking Ball and Magic.
High Hopes is, by its very nature, not as cohesive as Springsteen's other 21st-century records. But while there are strong songs, there are many more of the flaws that have beleaguered Springsteen lately. The most glaring is how big these songs feel. Starting with his 1975 breakthrough Born to Run, Springsteen (alongside the mighty, melodramatic fervor of the E Street Band) has sought to harness a grand, almost cinematic framework for his music. But in recent years, that desire has morphed into a vaguely anonymous enormity—songs that are huge in scope but thin underneath. On a track such as "This Is Your Sword," he goes for a Celtic arena-rock sound complete with violins and feel-good mantras like "This is your sword, this is your shield / This is the power of love revealed / Carry it with you wherever you go / And give all the love that you have in your soul." It's a lamentable latter-day-Springsteen trait: a song that offers generalized comfort delivered in a style that's so overpowering that it's meant to connect with hundreds of thousands of people collectively.
While Springsteen has often aimed for the bold declarative musical gesture, his earnest lyrics usually focus on the travails of everyday life, sung in that dependably roughed-up voice of his. But unlike his fellow 1980s superstars Michael Jackson, Prince and Madonna, Springsteen had a message that didn't translate to global domination. His lyrics were more personal and often political: He's explored alienation ("Born to Run"), the scars of the Vietnam War ("Born in the U.S.A."), the collapse of small towns ("My Hometown") and the struggle to make a marriage last ("Brilliant Disguise"). That a songwriter of committed consciousness could become a worldwide pop star underlines Springsteen's ability to speak for a lot of people.
But in the 1990s, Springsteen went solo and struggled to maintain that superstar persona, releasing the blandly commercial Human Touch and then retreating into the more stripped-down efforts Lucky Town and The Ghost of Tom Joad, which failed to make much of a dent in the culture. (He did win an Oscar for his song "Streets of Philadelphia," though its drum-machine-and-keyboard aesthetic seemed uncharacteristic of him.) His second wind came, ironically, when he got the E Street Band back together and recorded The Rising. Springsteen famously told an interviewer that the reason he was inspired to make the album shortly after 9/11 was because a fan came up to him and said, "We need you now." It's understandable why Springsteen would respond to such a request: As someone who's always identified with (and sometimes romanticized) ordinary people, he no doubt saw the album as a holy undertaking.
Occasionally moving and stuffed with good intentions, The Rising reinvigorated Springsteen's sense that he could be a voice for others, expressing our collective anxiety and sadness after the terror attacks. But on that album, he too often confused overinflated musical pyrotechnics for genuine drama, letting bombastic bar-band theatrics and soapy strings get in the way of the sentiments. (The task of encompassing all the emotions of 9/11 on a single album would have been daunting for any artist, but Springsteen's effort faltered specifically because he tried so doggedly to encapsulate that period through a series of booming, large-scale anthems. Even the ballads felt epic.)
Ever since, whether on the folk-ish Devils & Dust or the full-band assault of Wrecking Ball and High Hopes, one can't escape Springsteen's overarching need to make statements about post-9/11 America.
That's not to say that such statements are unappreciated or unnecessary. Several songs from this era, like "Devils & Dust" and Magic's "Last to Die," are angry, eloquent reactions to America's invasion of Iraq. Wrecking Ball's "We Take Care of Our Own" is, like "Born in the U.S.A.," deceptively rousing, bitterly lamenting the ways in which Americans have turned their back on people in need. But especially on High Hopes, Springsteen is guilty of writing songs that are the equivalent of Facebook status updates—he expresses some vaguely progressive, non-controversial position that's easy for his "friends" to "like" without thinking deeply about it. The Amadou Diallo-focused "American Skin (41 Shots)" articulates a legitimate concern about race in America—which remains relevant after the killing of Trayvon Martin more than 10 years later—but the song (cornily dressed up in echo-y reverb and churchly organ) plays to the choir and lacks subtlety. "Heaven's Well," a gospel-rock song about spiritual salvation, takes a page from Springsteen's onstage declarations about wanting to bathe his audience in the redemptive power of rock 'n' roll: a laudable but not particularly revelatory message.
Springsteen's music has always contained an intriguing juxtaposition: He asks his audience to be politically aware but also encourages us to retreat into the nostalgic backyard-barbeque vibe of party songs like High Hopes' wan "Frankie Fell in Love." Springsteen's pre-1990s music yielded this paradox as well, but it at least possessed a lightness that made it charming—a recognition that the regular people he sang about contained elements of both sorrow and joy. (A perfect example is Born in the U.S.A.'s misleadingly gleeful sing-along "Glory Days," which, as music critic Robert Christgau wrote at the time, "acknowledges that among other things, getting old is a good joke.")
Yet that lightness has evaporated in the last decade, and consequently, an album like High Hopes lumbers with noble piety, making worthy ideals feel as grueling as being made to eat your vegetables. Along those lines, it's noteworthy that Springsteen last year added former Rage Against the Machine guitarist Tom Morello to the live E Street Band lineup, additionally having him be an instrumental focus on High Hopes. Morello favors a strident, tediously sincere form of protest music on his own solo albums, as if what the world needs is more people who strenuously mean well. That assessment fits High Hopes, too, never more so than on the remake of "The Ghost of Tom Joad," Springsteen's 1990s folk song that Rage Against the Machine transformed into a moody rock tune at its live shows. By comparison, this new version finds Springsteen stoically trading verses with Morello, the song's pungent, searing Dust Bowl narrative reduced to a groaning seriousness as every lyric and showy guitar solo drips with importance.
These problems, I suspect, aren't a liability to Springsteen's biggest fans. In fact, they're selling points. Even at the zenith of his career, Springsteen was never hip, which also separated him from superstar peers like Prince. Rock-ribbed sincerity has been his brand from the beginning, and it's a quality that explains his audience's deep connection with him. His is the sort of music that fathers pass down to sons and that people use to map the course of their lives. (Anecdotally, I know two married couples—big Springsteen fans—whose first song at their wedding was Lucky Town's "If I Should Fall Behind," an ode to commitment that Springsteen and his wife, E Street member Patti Scialfa, duet on during shows.)
But to me, such adoration for Springsteen feels no different than the brand loyalty some show to Apple or Coca-Cola. Springsteen stands for something bigger than himself: a voice for the little man, a mouthpiece for America's most enduring values, a symbol of artistic integrity unsullied by pretension or rock-star entitlement. Along the way, though, the symbol got in the way of the tunes. When music critics use the phrase "corporate rock," they're referring to soulless industry-packaged bands that slavishly chase musical trends: the hair-metal mania of the 1980s, the cynical displays of angst and flannel after Nirvana broke big in the early 1990s. Springsteen's music is miles better than those groups', but in its own way, there's something corporate and big-brand about his recent albums. When you buy High Hopes, you're not just buying a Springsteen record—you're buying into the notion of what Springsteen feels is his solemn duty to the consumer. Personally, I preferred him when he was just dancing in the dark.
---
Tim Grierson is Playboy for iPhone's critic-at-large. His biography of Wilco, "Sunken Treasure," is available now on Amazon. Follow him on Twitter @timgrierson.
This article was originally published on Playboy for iPhone. For more exclusive content and the best articles from the latest issue of Playboy, download the app in the iTunes Store.
Photo by © n8n photo/Alamy