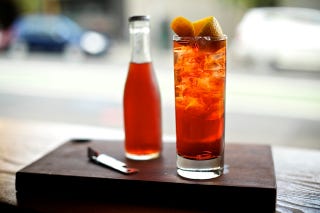 On Friday, we pay a penance for enjoying all that's great about Thursday—football, turkey, my Pumpkin Spice Dark and Stormy. Most of us spend the day on our ass, fighting a food coma and grazing on leftovers. Depending on how many Dark and Stormies have been consumed, some hair of the dog may even be required. I'll certainly admit it: I've spent more than a few mornings the day after Thanksgiving enhancing my coffee with spiked eggnog from the day before.
But there's a better way, I promise.
About a decade ago, my Italian friends taught me how to tame a full belly after a heavy meal—with the help of a cocktail. (These are Italians, not Puritans, after all.) Older generations have long known the power of a bitter libation to aid digestion; yet these Southern Europeans have turned it into an art form. While the dark, heavy Fernet Branca might be the choice of the Italian wing of the AARP and youngish bartenders, I prefer something lighter with some bubbles: an Americano. "Oh, Jeffrey, that's an aperitif, not a digestif," people will opine. I don't care. I'm going with what will actually help me feel better.
An Americano starts with Campari, a cordial flavored by bitter orange peel and originally colored by bright red beetle shells. (The modern version is artificially colored, but it offers much more natural flavor, ironically enough.) Add to that a little sweet vermouth, with its herbal composition and sweet caramel undertones, and the only thing left to get those digestive juices flowing is some sparkling water. The end result's healing properties are such that a single Americano should be enough to snap you out of even the deepest food comas.
Americano
1 oz. Campari
1 oz. sweet vermouth (Martini and Rossi or Cinzano, preferably)
3 oz. soda water
Combine ingredients over cracked ice in an Old Fashioned glass. Garnish with orange peel or a generous orange wedge.
---
Jeffrey Morgenthaler is the bar manager at Clyde Common, the acclaimed gastropub at the Ace Hotel in Portland, Oregon.
This article was originally published on Playboy for iPhone. For more exclusive content and the best articles from the latest issue of Playboy, download the app in the iTunes Store.
Photo by David L. Reamer