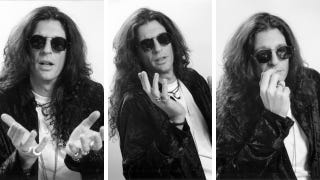 This weekend Howard Stern turns 60. In his honor, we're publishing our 1994 interview with the King of All Media, where he discussed politics, what he hates about radio, his greatest guests and how he defines indecency. His candid conversation with writer Marshall Fine is featured in The Playboy Interview: Big Mouths, an ebook anthology that includes discussions with Keith Olbermann, Donald Trump, Howard Cosell and Michael Moore. Buy it today on Amazon.
---
There is no neutral ground for the self-proclaimed "king of all media," Howard Stern. In fact, he may be the subject of America's most intense love-hate relationship.
If you love him, you think he's a radio genius, holding the airwaves most weekday mornings for more than four hours with an unprecedented blend of irreverent, jaw-dropping comedy and wild personal revelations ("I'm hung like a raisin"). And if listening to him on the radio isn't enough—and for many it isn't—you can switch on the E! Entertainment cable network and tune in to his "Howard Stern Interview," a one-on-one conversation that often showcases Stern more than his celebrated guest. Or if all else fails, you can simply line up for one of his book signings (in New York he drew crowds of as many as 20,000 people at each of three such appearances in October 1993, at one point stopping traffic on Fifth Avenue).
But if you hate Howard Stern, you are hardly alone. His outrageous, uncensored spewing—about everything from the beating of Rodney King to his fascination with lesbianism—has earned him enemies in all corners of the political landscape. The Christian Right condemns him for his frank, often lewd, talk about sex and bodily functions; the politically correct Left disdains him for jokes about racial, ethnic and sexual identity. Stern, meanwhile, argues that he just spouts off the kinds of things people think but rarely admit out loud.
Stern bases his claim to multimedia royalty on impressive successes in diverse areas of the entertainment industry: On the radio, he has taken a New York morning show and made it a national success, broadcasting it in 16 markets, with number one ratings in New York, Philadelphia and Los Angeles. On TV, he was a hit first with his syndicated "The Howard Stern Show," which often beat "Saturday Night Live's" ratings in New York, and now with "The Howard Stern Interview," which has raised the profile of the once lowly E! network. And his pay-per-view TV events, such as the $39.95 New Year's Eve extravaganza this year, are frequently among the top draws in the PPV arena.
Finally, there's "Howard Stern: Private Parts," a wildly comic, autobiographical volume that became the fastest-selling book in Simon & Schuster's 70-year publishing history, with more than 500,000 copies in print in its first month. The book entered the "New York Times" best-seller list at the number one spot in October 1993—and stayed there for a month.
Yet even as Stern was celebrating his memoir's rush to the top of the heap (his book party drew everyone from New York Senator Alfonse D'Amato to Mr. T to Joey Buttafuoco), parts of the retail industry, specifically discount department stores that sell books, were trying to pretend it didn't exist. The Wal-Mart chain, among others, refused to stock it; Caldor, a discount chain, went so far as to edit the display version of the "New York Times" best-seller list in its stores, erasing "Private Parts" and moving other titles up a notch—a stunt that culminated in an apology to the "Times."
Enemies notwithstanding, Howard Stern seems to be doing exactly what he dreamed about from the time he was seven years old and first talked into a Wollensack tape recorder in his Long Island boyhood bedroom. Born January 12, 1954, the son of a recording-studio owner, Stern grew up in the towns of Roosevelt and Rockville Centre, New York and later moved to Massachusetts, where he graduated magna cum laude from Boston University. Having launched his radio career at BU (complete with his first firing), he began broadcasting professionally in 1976 at a tiny station in Westchester County, New York. He moved to a station in Hartford, Connecticut and then to WWWW in Detroit. When that station changed its format to country-and-western overnight, Stern decamped for Washington, D.C., where he landed at WWDC in 1981. There he teamed up with Robin Quivers, a newswoman and former Army nurse who today continues to play foil to Stern's on-air antics.
In Washington, Stern won ratings as he developed a reputation for controversy. In 1982, when an Air Florida plane crashed into a D.C. bridge shortly after takeoff, Stern went on the air, pretending to call Air Florida: "What's the price of a one-way ticket from National Airport to the 14th Street bridge?" he asked. "Is that going to be a regular stop?"
To this day, Stern is dogged by the story that he was fired for making the stunt call. In fact, by that time he had already caught the eye—and ear—of WNBC in New York, and it was only after he had signed to go to WNBC that WWDC fired him.
After the move to WNBC in 1982, Stern quickly ran up against his new bosses over the content of his show: how much music he had to play, how much he could talk between records, how many comedy bits he could do per hour, and the fact that he mercilessly tweaked the station's other on-air heroes, Don Imus and Soupy Sales.
Content ultimately led to his firing in 1985—specifically segments along the lines of "Lesbian Dial-a-Date," "Sexual Innuendo Wednesday" and "Mystery Whiz" (the last a game in which callers tried to name a celebrity based on the sound of him urinating). The press release announcing Stern's ouster referred to "conceptual differences that exist between Howard Stern and WNBC management." Stern's version of the story, however, is that NBC bigwigs caught a few moments of "Bestiality Dial-a-Date" and ordered his immediate dismissal.
But before the year was out, Stern bounced to New York's low-rated WXRK, where he quickly claimed the morning drive-time ratings throne from WNBC's Don Imus. Defying conventional wisdom that a morning show must be local, Stern began simulcasting his show to other cities, including Philadelphia and Washington, D.C., then gradually expanded his network to include Los Angeles, New Orleans, Las Vegas, San Francisco, Dallas, Boston, Chicago and other markets.
Even as he was increasing his radio reach, Stern was casting about for other media to conquer: first television, then books, now movies (a deal to make "The Adventures of Fartman," a Stern character, fell through at New Line Cinema, but other deals, he says, are imminent). And next: late-night television? Stern's name has been bandied about as everything from a replacement for the Fox Network's failed Chevy Chase show to a competitor for NBC's Conan O'Brien, though he still has two years remaining on his radio contract.
Along with his increasing popularity comes additional scrutiny from his longtime foe, the Federal Communications Commission, which decided to implement and enforce decency rules for hours of the day when children might be listening. Beginning in 1988 the FCC levied a series of fines against the stations that air Stern, based on complaints from a handful of listeners. (One example for which Stern was cited: his on-air assertion that "the closest I ever came to making love to a black woman was masturbating to a picture of Aunt Jemima on a pancake box.") By January 1994, fines against Stern totaled more than $1.2 million. As a result, the FCC was holding up plans by Infinity Broadcasting (which owns WXRK and several other radio stations that broadcast Stern) to purchase three additional stations. Stern has vowed not to pay a penny toward the fines—and to take the case to the U.S. Supreme Court, if need be.
To find out how much difference there is between Howard Stern on and off the air, we sent Marshall Fine, a writer for Gannett newspapers, to talk with Stern at his WXRK office in New York. Fine reports:
"Getting Howard Stern to talk is no problem: He lives to talk. The challenge, it turns out, is in finding time in his schedule to carve out even a two-hour session. As we met over the course of a month to conduct the interview, Stern was in the midst of a publicity storm to promote 'Private Parts,' including appearances on 'Geraldo' and 'Donahue.'
"When he's in the radio studio, Stern folds his willowy 6'5" frame behind a radio console, a tiny fortress from which he keeps the universe at bay with jokes, belches, come-ons, put-downs and the seven-second-delay button. But off the air, he is not the aggressive motormouth he is on his show (though he's hardly shy). For most of our sessions, he sprawled on a couch in his office, perpetually shielded behind his trademark sunglasses, and addressed each topic thoroughly and with candor. Although he often complained about the amount of time Playboy needed for the interview, and about the process itself ('This is torture'), he was gracious and friendly and eager to please.
"Most interesting was watching Stern, who prides himself on keeping no secrets from his audience, deal with so many personal topics. There were only two questions he refused to answer: about how he would host a late-night TV show, and about how much money he makes. When the subject was radio or TV or show business in general, he launched into elaborate, often graphic, answers. It was only when the subject turned to his own sex life—specifically his habit of (as he puts it) pleasuring himself—that I noticed something barely perceptible and completely unexpected: I swear I saw him blush behind his shades."
---
Playboy: You seem to be all over the place these days. Aren't you getting overexposed?
Stern: Yeah, probably a little. But I don't know. If ratings are any judge, the Geraldo show I just did pulled the biggest ratings he got all month. Donahue has replayed my appearance because he got such big ratings. People seem to want more of Howard Stern, more interviews and stuff like that. But I'm feeling a little run-down from talking so much about myself. Especially for Playboy. They make you do a six-hour fucking interview. God only knows why they need a six-hour interview. I'll bet Jimmy Carter didn't do a six-hour interview.
Playboy: We don't know if you've seen Doonesbury recently—
Stern: I did.
Playboy: You were in a series of strips.
Stern: Just let me comment on Doonesbury. I have never understood the comic pages of the newspaper. I believe nobody reads the funnies. I don't think any of them are funny, Doonesbury in particular. I don't even know what the fuck Garry Trudeau is talking about. The guy writes a series of comics on me, and I don't know what the fuck the joke is. I don't get it. Garry Trudeau must be, I don't know—maybe the smell of Jane Pauley's pussy has him delirious. He cannot fucking write. I don't know what the fuck this guy is talking about.
Playboy: You're now part of pop culture. Isn't it flattering to be in the comics?
Stern: It's flattering to be recognized, and I don't always blast Garry Trudeau. I just don't know how he got famous.
Playboy: Your book is a runaway best-seller. Did you ever imagine that it would become as big as it has?
Stern: I thought the book would have a big initial release, because I have a lot of hard-core fans—people who will run out and buy whatever I sell. The question that I have now is: How many people across the country are getting the message? Does the guy in Cincinnati care about what Howard Stern writes in a book? I don't know that yet. I used to sit in my basement writing this thing and go, "Oh, God, I hope people buy this book." And my editor would say, "Don't worry, word gets out there. If the book is good, it will sell."
Playboy: Callers on your show have said that when they went to buy your book they were met with snotty attitudes by bookstore employees. Why do you suppose that happened?
Stern: Because book retailers want to see Ernest Hemingway in their bookstores. They're traditionalists. They can't accept the fact that someone could write something that has mass appeal. That's the snobbery of books.
Playboy: Do you enjoy the respectability that comes with writing a best-seller?
Stern: Yeah, I like that. As I've said for a long time, radio is a scuzzy, bastard industry that's filled with deviants, circus clown rejects, the lowest of the low. No matter how good you are in radio, you will always be a scumbag for being a radio personality.
But if you write a good book, suddenly you're a fucking hero. A book means you've arrived. You're more important, even though the book is filled with the same stuff you've been saying on the radio for years. And let me tell you, the best-seller list is an easy list to conquer. To go up against morning shows all over the country and have a number one rating is ten times more difficult than writing a best-selling book. Barnes & Noble sold 100,000 of my books in one week. The number two book sold 5,000. There's no comparison. And the reason is that a lot of those buyers are my radio fans. It shows you that radio really isn't some scumbag industry.
I have proved to these Hollywood geniuses that there's tremendous, bankable quality when it comes to doing business with me. People who see that a $23 book can be sold will now recognize that a $7 movie ticket is easy—and that the movie will be successful. I don't think there's one Hollywood celebrity who has ever written a hit book, had a hit radio show and had a hit television show.
But I constantly have to prove how bankable I am. I've been screaming at Hollywood for years: "Do you guys understand the potential of me making a movie? We have a tremendous, loyal audience here. Millions of people." But Hollywood didn't respond until they saw the book. Now everyone and his mother wants to sign me to do a movie. Most people are sheep. They'll follow whatever they think the big thing is. So now they're like, "Oh, yeah. He's big. He's hot."
Playboy: If you were going to make a movie of this book, who would play you?
Stern: River Phoenix. I had him booked but he's gone now.
Playboy: Anybody else?
Stern: Chevy Chase maybe. He's free.
Playboy: You did an interview with The National Enquirer to publicize this book.
Stern: Right.
Playboy: Aren't you at all skeptical about the tabloid press?
Stern: No. I think the tabloid press is some of the best press out there.
Playboy: Why?
Stern: Well, because they cover a story better than anyone. They go out and actually investigate, which most newspaper guys are lazy about. Liz Smith—the so-called legitimate gossip columnist—all she does is quote from The Enquirer. She goes, "I can't believe how disgusting the tabloids are. They say that such-and-such actress fucked a dog. That's disgusting and I don't agree with that." You know? It's sort of veiled. "I'm against the tabloids but, meanwhile, my whole column is about the fucking tabloids." So I think the tabloids write interesting material. It's mass appeal. And nine times out of ten they get the story right.
Playboy: Were you worried that your book would be lumped in with books by other radio personalities, such as Larry King and Rush Limbaugh?
Stern: Absolutely.
Playboy: Your publisher is Simon & Schuster, which also publishes Limbaugh. Have you read any of his books?
Stern: Yeah. They had Limbaugh's picture all over the place, so I said, "Let me see what he wrote." They gave me the book, and I got through three pages. It was dull. It was a rip-off. There was nothing bright or intelligent about it. It was like the writings of a nitwit. I'm a nitwit, but I'm trying to write comedy, and I think I was successful at making people laugh. But this guy is actually starting to believe his own press—that he's a great political thinker.
Playboy: And he's not?
Stern: Rush Limbaugh is a big, fat, uninventive jerk who got back into radio after being a failure at it for years. It wasn't until I came on the scene and changed the face of radio that he realized he could do something with substance.
Playboy: You've mentioned before that you wrote the book for the advance money. How much did you get?
Stern: I don't talk about the figures. Never do, never have. Never talk about my salary.
Playboy: Yet you quiz most of your celebrity guests about how much they make. Isn't that hypocritical?
Stern: No, not so far as I'm concerned. Some people have a need to talk about that kind of shit. Their place in show business goes up when they talk about how much money they have. You start to think: Wow! Boy, is this guy successful. He has a lot of money. But I don't have a need to brag about how much money I make. I don't think it's healthy. I wouldn't tell my kids how much fucking money I make. My father never told me. I can see why. He didn't make any.
Playboy: The New York Times estimates you earn about $2 million a year from radio and that you will make $3.5 million from the book. True or false?
Stern: How do they know what my deal is? Listen, I'm in it for the money. When I was first drawn to writing the book, the final motivation was the advance. But I've been planning for nine years to write a book. I sat down with a computer guy and an archivist nine years ago and said, "I want to keep track of all the subjects I've ever spoken about that are worth putting in a book."
Playboy: How extensive is that archive?
Stern: It's huge—everything that's ever been written about me, anything I've ever said on the radio.
Playboy: Will this someday form the basis of a Howard Stern archive at your alma mater, Boston University?
Stern: No. Boston University will never get my archive as long as that fucking runt, that one-armed bastard John Silber, is in charge.
I had a positive feeling about Boston University in terms of going to school there. Then John Silber got on Nightline and came out against the First Amendment and started talking about how bad I am for children and all that kind of shit. This fucking guy, who says he is a moral man, was on 60 Minutes, hemming and hawing at questions about his finances. This fucking guy is sitting and commenting on me? This guy can suck my cock, John Silber. I hope he sucks my cock and my balls and hums the fucking Star-Spangled Banner at the same time, that one-armed prick. Is it my fault he lost his fucking arm? He's got a baby arm. He has a fucking baby arm because he has a fucking baby brain.
Playboy: So no endowment to the school? No Howard Stern Chair of Broadcasting?
Stern: No. I'm not interested in that. I'm not interested in the Howard Stern Museum or anything like that. The only projects I'm interested in are show business projects. I will make a movie and it will be a fucking hit. I will it to be a hit. I'm not going to put together a bad movie. I'm too much of a fucking perfectionist to allow that to happen. I have the movie in my head and I know what it's going to be. My agent is in California this week. He has a laundry list of meetings with every fucking head of every major studio that wants this movie.
Playboy: Why are you so in demand?
Stern: Because of the success of the book. They want the movie and they want it tomorrow. They don't care if I take a shit on-screen, they just want that movie. But I want the right components to make it a good movie. New Line Cinema has called me since the book came out. They're the ones who didn't want Fartman. Now they want it. It took me one fucking nanosecond to tell them to go fuck themselves.
Playboy: Why?
Stern: Because I'm not interested in doing business with them. I was interested in doing business with them a year ago, but no longer. I've seen the way they conduct themselves.
Playboy: Your deal with New Line to make The Adventures of Fartman supposedly fell apart because of a dispute about the rating and merchandising. True?
Stern: Look, I have purposely never done a merchandising deal with anybody. Those deals come in every day: I've had everything from fucking Howard Stern dolls and Howard Stern in a box to Howard Stern magazine, Howard Stern newsletters, coffee mugs and T-shirts. You know, all that shit. It just strikes me as being tacky. It was always so fucking crass and brought the level down. And New Line not only wanted the Fartman merchandising, they wanted the Howard Stern merchandising. Then they started in on the script, saying it should be a PG film. I said, "Look, if you're going to do Fartman, it has to be R-rated."
Playboy: Do you think that it will ever get made?
Stern: Yes. It'll get made. It'll be the second movie.
Playboy: And the first movie?
Stern: I think I have the perfect concept, a great idea for the movie I want to make. It's autobiographical. I'll play Howard Stern. I have to play me, much like Woody Allen played himself in his early movies.
Playboy: Even in the younger years?
Stern: No, a kid will have to play me in the younger years. I don't know exactly who that's going to be. I don't have a preference, but it's sure as hell not going to be that little fidget on The Wonder Years. He's gone off the wall. I don't know what the fuck his problem is.
Playboy: A successful movie career would bring you closer to your self-proclaimed title of "king of all media." Just the same, would you admit that you're not as good on TV as you are on radio?
Stern: Yeah, I would admit that. There's something very special about what I do on radio. But I think I've become real good on TV, and I think I'm much better at it than when I started—and better than 99 percent of the performers who do talk shows on TV.
Playboy: Some critics have said that your E! program is a celebrity-interview show in which the celebrity hardly speaks. You do all the talking.
Stern: The show would get no ratings if I let the celebrities talk. But I wouldn't feel comfortable sitting there by myself and doing that, so it's good to have a celebrity sitting there as my prop, giving me a forum to do my thing. My concept for The Howard Stern Interview was that a different celebrity every week would interview me. That was what I really wanted to do, but I couldn't convince anyone that it would be strong. So, in essence, I have to create that.
Playboy: You've been mentioned as a late-night host, replacing Chevy Chase, or as a competitor for Conan O'Brien. You've said that you could take on David Letterman and Jay Leno. How?
Stern: I'm more honest. I'm more compelling. I know exactly how I would handle a late-night talk program.
Playboy: How?
Stern: I won't tell that. Never. That would be revealing my game plan. I see too many elements of my show on Letterman already. I'm not interested in providing free material to people. Everyone wants to know what I would do. I say, Put me on and find out.
Playboy: You were not surprised that Chevy Chase's show was taken off the air. In fact, you predicted it.
Stern: When you plan a program in the 11:30 time slot, you have to fucking invest in the right people, build your station around an identity. CBS has an identity because of Letterman. And there's a certain feeling about Jay Leno and NBC. So who came up with Chevy Chase? He's an aging sort of unfunny comedian—not even a comedian but a comic actor—who's never really said anything funny on his own. Who looked at him and said, "That's a guy we can build a show around"? A guy who can't interview anyone, who can't even communicate? I said in the book that Chevy Chase would be off the air in six weeks. I was pretty close. It took five and a half. It amazes me who makes these decisions.
Playboy: A poll in USA Today had you as a favorite to replace Chevy.
Stern: I found that poll insulting.
Playboy: Why is that?
Stern: Because they're supposing that I'm in a league with [then Talk Soup host] Greg Kinnear and Sinbad—people who have never hosted their own variety-interview programs. They haven't written books. Their incomes are—Greg Kinnear makes, I think, $30,000 a year introducing clips to fucking talk shows. Quite frankly, that's not an interesting poll. We knew I would win that. If you had a choice between Kinnear and me hosting a show, I would win hands down, unless you were a fucking puppethead. The poll should have been, Who would win: Howard Stern, Jay Leno or David Letterman? And I would still win. I would beat them.
Playboy: You always refer to being in radio as barely being in show business. That it's a bastion of idiots and—
Stern: It is.
Playboy: And underachievers.
Stern: Where else can you find 30 stations on a dial and nothing to listen to?
Playboy: Yet here you are, the king of this particular heap.
Stern: It's not a great title to be king of radio. Radio is an easy medium. I think I was seven years old when I realized I could be a success on radio.
Playboy: What do you like about it?
Stern: Radio is different from any other form of show business. When I'm on radio for four and a half hours, I'm the director, the producer, the whole deal. I can control that situation. It's immediate. Whatever I think of I can broadcast. There's a lot of creativity that comes from having to knock out five hours a day. It's a tremendous opportunity.
Even at an early age, I remember wanting to be on radio, wanting to do a show as opposed to sitting there and playing records. My father bought me a tape recorder and I would sit in my room and do radio shows—but not like what I heard on the radio. I would do hours of sketches and voices and all kinds of shit. I wanted to have fun and entertain people.
Playboy: What do you hate about radio?
Stern: What I hate about it is you're not taken seriously. Circus clowns are given more credit in show business than disc jockeys. When I got into it, it was filled with so many jerks and morons. It still is. Guys with big, deep, stupid voices who say absolutely nothing.
I was the world's worst announcer—it never interested me. I felt I had something to say, that I could be a hell of a lot more entertaining than the guy announcing another record or going to bowling alleys, signing fucking pictures and giving out Kmart bumper stickers. I always felt it could be elevated.
Playboy: What's wrong with show business in general?
Stern: It's run a lot like politics. In fact, I think politicians are becoming more honest than show-business people. Show business has become a game. I hate this sort of phony love affair celebrities have with one another, and the way they think they have to be treated. A lot of them build up this phony-baloney image. They become spokespeople for causes—politicians, advocates—because it's good for their public images. I've met with publicists who have sat down and said, "The first thing you have to do is get involved with a charity, because that will offset this image or that image." I go, "Fuck you. What do you mean? Offset what image?" I could give a shit what my image is. If I ever worried about my image, I'd be in big trouble, because everything I say is wrong. So I find the phoniness in show business pathetic.
Like Kathie Lee Gifford. It's so sickeningly sweet. Nobody talks like that. There's just no reality to it.
Playboy: If you were the king of show business, who would you banish from the kingdom?
Stern: Oh, God. People would be in trouble every time I turned on Entertainment Tonight. I'd take just about everyone off the air. I'd probably start with [ET host] John Tesh and [his wife] Connie Sellecca. Have you seen their informercial? John Tesh sits there with Connie Sellecca—and Connie Sellecca is a beautiful woman—and they're selling a tape that helps people in their marriage. You're supposed to watch the tape and it will give you counseling for your marriage. I'm thinking, if that blond fucking Frankenstein, John Tesh, can't be happy in a marriage next to Connie Sellecca—I mean, what counseling would you need being married to a piece of ass like that? Then they sit there with real couples—guys who look like a bus just ran into their faces and wives who look like they just got off the fat farm—couples who are in crisis. They do need help. But just watching it, it's so phony, so bullshitty. It's obnoxious.
Playboy: You mentioned Kathie Lee Gifford. Who else would you get rid of?
Stern: Oh, God, there's a list. Kathie Lee. Yoko. Larry King.
Playboy: What do all of them have in common?
Stern: They scare me. Each one strikes me as being so phony and full of themselves. I don't know what their talents are. It's just that they're there.
Playboy: What do you do differently? When you come off the air in the morning, how do you know when you've had a good show?
Stern: There are good radio shows where I'll be talking about nothing, where we just answer mail and take phone calls on the air. But the really special moments are when a grade-B celebrity has a grade-A story.
Jackie Stallone comes in—Sylvester Stallone's mother. Within five minutes she's telling us about the girls Sylvester dates and why she hates them. And then, in the next breath, she's talking about her first husband, Sylvester's father, and what a fuck he was. Then—boom!—Sylvester's father calls in, because he lives in Jersey, and they yell and scream at each other.
Now, why is that great radio? Because for half an hour, some guy stuck in traffic heard a compelling human moment. He didn't hear some jive bullshit radio show where a guy gets on with his stupid deep voice and talks about how sunny the weather is and how great the fucking Jets game was. He heard fucking human drama. He was eavesdropping on reality.
Like today. We talked to Jessica Hahn on the phone. It was tremendous. For half an hour Jessica told us that she might not be able to be part of our pay-per-view special. I sat there and yelled at her about that and about how her boyfriend doesn't really love her. And I don't even know the boyfriend. I don't know anything about their situation.
Playboy: But you know exactly how to push her buttons.
Stern: And I'm pushing button after fucking button and she's taking it seriously. She's going nuts, having a conniption right there. That's great radio.
Playboy: What makes a good guest?
Stern: Sam Kinison was a great guest. He told real stories. He would come in and say, "Guess what? I fucked my sister-in-law."
"You're kidding. How did that happen? Let's get your wife on the phone and ask her about it." You know? That's phenomenal radio.
Jessica Hahn calls in and says, "I fucked Sam Kinison and he shit all over my carpet." This, to me, is amazing.
"I was fucking Sam," she says, "and he was really high and he passed out during sex. Then he woke up in the middle of the night. I guess he was searching for the bathroom, but he couldn't find it and he didn't know where he was because he was so high. Then he moved his bowels all over the floor and got right back into bed like nothing happened."
Now, first of all, that's a phenomenal story because a guy took a shit all over the floor, standing up like an elephant. And he didn't even wipe. She's also telling you, not only did he shit all over the floor but now she has a problem: What do I do with Sam's shit? Because she's afraid The National Enquirer is outside her door. It's amazing to get someone to talk about it on the radio.
Then Sam hears about this, gets pissed off, comes on the show and says, "She's a sick pig! I fell asleep inside of her! Plus, she gave bad head." He's screaming and calling her names. You know, there's a great True Confessions aspect to all this.
Like, we had Corbin Bernsen on. He was an awful guest on Chevy Chase's show, but when we had him on our show, he was a killer. He went into all the women he fucked—he fucked Vanna White. He was going through the whole damn thing. We had Robin Gibb from the Bee Gees on. He said he had a wife who was a lesbian, and that he lives with her and her lover—the whole thing. It became front-page news in the tabloids in London. People feel that, because there's an openness on the show, they should be just as open. They get caught up in it. When you're interviewed by Barbara Walters, you start thinking about your career and how important it is. On my show it's kind of like, "Well, I'll just be as stupid as I want to be." And we end up getting different kinds of information.
Playboy: Could you do a completely guest-free, celebrity-free show?
Stern: Absolutely. I've gone weeks without guests. A lot of guests, especially Hollywood actor types, don't have any clue that an audience needs to be entertained. They come in with their agenda and they're not even willing to give me good radio. They want to give me that guarded personality:
"Hey, who did you sleep with?"
"I don't want to say."
"Oh. At what age did you lose your virginity?"
"It's none of your business."
I mean, fuck you! Get the fuck out of my fucking studio! Don't you get the point of this show? If you're not going to be entertaining, get the fuck out!
Playboy: Is that why publicists are so afraid to book clients on your show?
Stern: I have no idea. I can't answer that. I think we sell product better than anyone. If someone comes in and gives me a good appearance, I'm going to go to bat for them and make sure that the word is out on their product. But there are many publicists who won't do business with us. And you know what I say? "Fuck you! I don't care. Keep going on Larry King's show." I once tried to sell a videotape on Larry King. You know how many calls I got? Forty. That's bullshit. Larry King doesn't move product.
Playboy: Who's your all-time best guest?
Stern: [Pauses] I'll give you the top five:
Richard Simmons is unbelievable, but he no longer comes on the show because we actually went over the line, I guess. We would sit there and question his masculinity. That drove him completely fucking nuts.
Kinison, right up there. Great fucking guest. We replay some of his appearances, and they get better ratings than some of the people who come in.
I happen to think Maury Povich is a great guest because the guy knows how to take a joke. We get very brutal with him, especially about the fact that he couldn't get Connie Chung pregnant. Great stuff.
Andrew Dice Clay happens to be a good radio guest. He always has an agenda that's kind of interesting.
And Jackie Stallone.
Playboy: All-time worst guest.
Stern: The worst guest I ever had was when I was at NBC. It was Steve Landesberg. Barney Miller had just gone off the air, and I think he saw big plans for his future. He was promoting some product—a book or something—and he came in with a bad fucking attitude. He was barely in the room, you know? You could tell he didn't want to be there. Now, I don't mind a guy who comes in and hates us—that's OK. But when a guy comes in and just doesn't want to be there—that was Steve Landesberg. I just wanted him out of the fucking studio. He made my skin crawl. And I'm so glad: I haven't seen him do anything but some shitty commercials since he left Barney Miller.
Gilda Radner was one of my all-time weird guests. She cried.
Playboy: About what?
Stern: I don't know. Maybe she was ill at that point. Maybe the equilibrium in her body was off. But every minute she was like, "You don't like me. You don't like me." And I'm saying, "No. No. Gilda, I'm a big fan of yours, I really like you." She got weird on me and started crying and shit.
Playboy: Some of your guests don't say more than two words.
Stern: Yeah, but some people are like that. Belinda Carlisle hardly says anything—she doesn't try. But there's something about her that brings out the best in me. She has never offered any information, and yet she's one of my best guests because I go fucking nuts when I see her. I'm a good performer when she's around. I would book her any time. Maybe it's just that she's a really good-looking girl, and I want to prove something to her—how fucking funny I am. I have a lot of that going on in me. I'm usually better with female guests because I want to show off or impress them. I'm at my best when there's a good-looking woman in the studio.
Playboy: Still, there are some people you'll probably never get on your show. Let's run down a short list. What would you ask Mother Teresa?
Stern: Well, I'd probably just ask her how the hell she fucking gets the energy up to wash AIDS patients' feet. That's pretty bold.
Playboy: Hillary Clinton.
Stern: Well, I could probably say something sexually lewd here.
Playboy: Do you find her attractive?
Stern: You know, I can't get a sense of what Hillary Clinton looks like. I sometimes see her in pictures and she looks OK. And then an other ones she looks a fucking mess. But I find some weird sexuality there. I could definitely fuck her. No question about it.
Playboy: What would you ask Michelle Pfeiffer?
Stern: "Will you suck my cock?" Oh, I don't know. I mean, what the fuck is her problem, huh? I would probably say to her, "Michelle Pfeiffer, you're so good-looking, you have this great career—but you are so fucking angry." I've never seen anybody so uptight about their personal life. "I will not answer that question, that's very personal." What is she, the queen of Sheba?
Playboy: How about Tom Cruise?
Stern: I have heard for years that Tom Cruise is gay. Mostly gay people tell me this stuff. So I would say, "Are you fucking gay?" He seems to be straight to me, but gays tell me he isn't. I think it's wishful thinking on their part.
Playboy: Hugh Hefner?
Stern: What would I ask Hugh Hefner if he sat down in that chair? [clears throat] I'd probably ask him about when he got his one shot on TV—that Playboy After Dark—what the fuck was that all about? Was he on acid? I mean, "How could you blow it that bad?"
I would also ask him about the sex he's had with all the different women. I'm genuinely fascinated by that. I'd like to know, too, what it was like when he dumped his wife. What's it like to come home and say, "Listen, honey, I started a girlie magazine, and where I was once unattractive, now women suddenly find me attractive. So I have to dump you now and go live the Playboy lifestyle."
Playboy: Ronald Reagan?
Stern: He was the president of morality and family, and yet his own fucking children can't stand him. I find that incredible. Here he is, almost the moral standard by which you're supposed to run your family, the family man of the century, and yet his family is completely dysfunctional. How the fuck does he deal with that? The only one who seems to love him is the fat one. I can't think of her name.
Playboy: Maureen.
Stern: She seems to hunger for love in all the wrong places.
Playboy: If you could interview Lenny Bruce, what would you talk about?
Stern: I would genuinely love to talk with Lenny, but I doubt whether he could give me much advice.
"Hey, Lenny, what do you think? I have problems with the government. They have fined me a million dollars and they're trying to end my career."
"Oh, man, I don't know. I couldn't deal with that pressure. If you want my fucking answer, do fucking heroin."
Playboy: Who else would you like to have on the show who hasn't yet made an appearance?
Stern: I would like to have Roseanne and Tom Arnold on. I find Tom Arnold so repulsive that it would be great radio. I would just sit there and tell him what a leech I think he is. "What the fuck is wrong with you? You need your wife to get you a fucking job? You need her to fucking quit her ABC show and switch networks just so they'll give you a television deal?" It would be phenomenal radio.
Madonna has turned me down on several occasions. She's nervous about doing my show. She's afraid to do it. She claims the reason is that I once called her at home and left a message on her answering machine while I was on the air. But fuck her. I mean, the way she's so outrageous, she can't handle an answering-machine message?
Playboy: Critics have said that your sidekick Robin Quivers is little more than your in-studio laugh track. Some also say that having a black woman as a sidekick helps shield you from criticism of being a racist or a sexist. What function does Robin really serve?
Stern: First of all, I can't believe that anybody who listens to this show would think that Robin is just a laughing sidekick. Robin makes as much of a contribution as I do. If you counted up the amount of airtime we have, you'd find we both have 50 percent, I think.
Robin has a great laugh, and that laugh is one of the reasons I love her. It gets you talking. She's a facilitator. She instigates. She's conversationally there for me—up on all the current events, just the perfect person to have working alongside you when you're trying to be funny, because she feeds you material.
As far as the racial issue goes, it's completely idiotic for anybody even to think that way. I wish I were that calculated—that I'd said, "Hey, I've got to go get myself a black sidekick so people will think that I'm a really great guy." [laughs] When I first heard a tape of Robin, I had no idea she was black. Believe me, I would not hook up with a black person just because he or she was black. I'm in competition. I want the best possible person there with me. I don't give a fuck what color they are as long as they're talented.
Playboy: You speak often and lovingly of Robin's breasts on your show. Have you ever seen them?
Stern: No. I mean, there was one time we were taping a TV show and her nipple popped out. I saw a nipple! [laughs]
Playboy: What would it take to get her to show her breasts to you?
Stern: Oh, I don't think Robin would show them to me. They're precious. Those are for very special eyes. [laughs] Eyes better than mine.
Playboy: Do you live vicariously through Robin's sex life?
Stern: Robin barely has a sex life, actually. I'm excited when Robin has a sex life, because it's more to talk about. You know, Robin got fucked in the ass a couple of years ago. We haven't stopped talking about it. We live for that.
Robin's sex life is interesting no matter what happens. It's interesting that she doesn't have sex when she could, and it's interesting when she finally does have sex. I've said on the air that Robin is like Spock: I think she has a need to mate every seven years. It's that Vulcan energy surge that she gets. She needs it.
Playboy: Let's talk about your callers. Is it like playing Russian roulette every time you pick up the phone?
Stern: It's hard to say. I happen to think some of the funniest aspects of the show are getting a caller on the phone who isn't prepared to be on the show. The idea that each call goes almost exactly the same way is funny in itself:
"Hey, you're on the air."
"What?"
"You're on the air."
"What?"
"Lower your radio."
"What?"
"Lower your radio."
"Hey, Howard, how are you?"
"Lower your radio."
That fucking scenario every time. You can bank on it. There's just something humorous about it.
There's also something great about when women call in. I love angry phone calls. And I love people with accents. Stutterers. Tourette's syndrome. Anything that's an audio problem. I love foreigners who want to call up and scream about my comments, and I'm just telling them to go back to their fucking country. There's just such a beauty, such a base quality to it. And it's fun to listen to. Those are my favorite calls.
I also love lesbian stories, when a woman calls in and says, "I had lesbian sex." Then we dissect every inch of that story to the point where a guy gets a fucking hard-on and has to fucking beat off in his car. I mean, if you can give a guy that, that is a great accomplishment.
Playboy: Your fans sometimes call in to radio and TV shows and invoke your name. You made headlines in 1992 when one man called the Today show and asked Ross Perot, on the air live, "Have you ever had the desire to mind-meld with Howard Stern's penis?" Larry King, whose show is a frequent target of this kind of thing, was quoted as saying, "I feel sorry for these people. They must have awfully lonely lives."
Stern: Well, Larry King is nobody who should talk about people with lonely lives. Larry King shouldn't comment on anybody's life. Larry King's private life is despicable. He's a disgrace and he really should be evaluated psychiatrically.
Playboy: How did this whole call-in thing get started?
Stern: Wait a second. Any guy who proposes to women at the rate Larry King does—and marries them and then divorces them—here's a guy with a seriously lonely life.
Anyway, the guy who started the call-ins was Captain Janks, a guy who calls our show all the time. He's named Tom, but he calls himself Captain Janks. He'd call these shows and mention my name.
Playboy: Have you been watching TV and actually seen it happen?
Stern: Yeah, and I get embarrassed. I turn red every time it happens. But I think it's fucking hysterical.
When the penis thing happened to Ross Perot, my father went out of his fucking mind: "My God, this guy could be president. What are you doing mentioning penis?"
I said, "Dad, what am I doing? I'm not doing anything."
"Tell your listeners not to say penis to Ross Perot."
Playboy: Are you interested in interactive TV as a way to connect with your audience?
Stern: I think it's kind of neat. I'm sure there's a whole bunch of neat little parlor games you play with the audience. But most of this interactive crap is not very inventive. Most of it's going to be so Joan Rivers can sell her jewelry, so Richard Simmons can sell the fucking cardboard diet cards, so Barry Diller can sell some fucking garbage to the public quicker than if they went to a store.
You know, it's almost kind of frightening what's going to happen with that. There was a certain beauty to people going out to the store and interacting. Now we'll have a society where no one even knows how to talk with each other. We won't even have to pass each other on the street. As more people work in the home, they'll call everything in from their television sets. It will be complete noninteraction. I'll probably be happy in that kind of environment.
Playboy: You don't see yourself someday riding down this information highway so your listeners can interact with you?
Stern: I've been doing that for years. I pick up the phone and interact. I mean, there's no secret to interaction.
Playboy: Why do you sometimes run your show late?
Stern: Like anything else with radio, I felt that having no form to the show was important. But toward the end of the show, I found that we would start trying to cram stuff in. So it seems to me that you end the show when you want to. I never could figure out why we treat all these cable systems like a network. I thought cable TV was going to be about: If you have a great guest, you go with it.
Like on CNN. Larry King is sitting there with, I don't know, the president of Mars. And it's an all-time exclusive. It's the first time the guy has landed on Earth. So go the extra 15 minutes! What the fuck else do you have to program? If something's going great, go with it. If I have Patti Davis Reagan telling me how she is curious about bondage, or talking about fucking two guys in the White House, go with it. I mean, don't stop. That's the way it should always be.
Playboy: What was your thinking in deciding to take your show national?
Stern: I felt a lot of what I was doing was being imitated all over the country and I wasn't being compensated for it. Guys were making fortunes off my show. So why shouldn't I have the luxury of competing in those markets and getting the credit for what I had created? It killed me. It still kills me that you go to—oh, I don't know—to Milwaukee, and nobody there knows who I am. That bugs me because there are two guys in Milwaukee, maybe, doing my show—and making a pretty good living at it.
Playboy: But you take it to extremes. You get vicious when discussing competitors. Where do you draw the line?
Stern: I don't draw the line. So I guess I'm just vicious. I am going to talk about a guy if I think he's a cocksucker—and a lot of these guys I'm up against are cocksuckers.
Playboy: So you won't mind telling us the first thing that comes to mind when we mention some of your colleagues in broadcasting.
Stern: Uh-oh.
Playboy: Larry King.
Stern: Boring.
Playboy: Rush Limbaugh.
Stern: Big, fat, pumpkin-headed bastard piece of shit.
Playboy: Casey Kasem.
Stern: No-talent motherfucker who counts backward and made millions of dollars, to the point where he even owns a building in Los Angeles. And he has a big fucking space-alien-looking wife.
Playboy: Rick Dees.
Stern: Dick Clark wanna-be. Never will be. Failure at most everything he does. His wife can't even fuckin' talk. He has her on the payroll to do impressions, and you know who she sounds like? Rick Dees' wife. Her Dr. Ruth sounds like Rick Dees' wife. Rick Dees is a no-talent.
Playboy: Don Imus.
Stern: Most despicable human being on the planet, whose lungs I wish would collapse every day of the week so that he'd stay alive and suffer trying to breathe. He is the biggest rip-off artist in the world. He does my exact same show every day, but does it badly. He has to live with it every day that he's not me.
Playboy: Bill Clinton went on Don Imus' show and not yours. Why?
Stern: First of all, when I met Imus, he never had a guest on his show. Imus now does The Howard Stern Show, and he does it poorly. The reason he does it poorly is because he has no sexuality, because he's an old dried-out lizard. He couldn't talk honestly about the size of his penis or anything else. He's just not honest—about his life, about what he feels.
Imus got Clinton because aides perceived him as someone who would play the game. And they were afraid to book him on my program, because of my reputation. But I think Clinton would have had a good time on my show.
Playboy: If you had Clinton on your show now, what would you ask him?
Stern: "When the fuck are you going to do something about the FCC? For Christ's sake, I backed you. I got a lot of people to vote for you. Now what about it?" I genuinely need Bill Clinton to put an end to this FCC madness. I wish I could talk to him. He did something great on abortion, basically putting all those religious yahoos on the back burner. He did the right thing with gays in the military—he took a brave stance, started the wheels in motion. Clinton is good at starting the wheels in motion toward more freedom for everybody. Where Bush sat on his fucking ass and kowtowed to the religious Right, Clinton has begun to lean in a direction that's more positive in terms of the way we treat each other. And as far as the First Amendment goes, I believe that Clinton firmly believes I have the right to say what I want to say on the radio.
So the first question I'd ask Clinton would be, "What are you going to do?"
Playboy: You've said, "I don't think that you can go too far on the radio." Isn't there anything that you shouldn't be able to say?
Stern: I think free speech is the single greatest freedom we have in this country. For anyone to say that something shouldn't be said hurts that freedom. The rule I follow is this: I should say anything that I think is funny.
Playboy: Just the same, a lot of people would be happier if you stopped talking about sex.
Stern: What is this bugaboo about sex? I mean, what is this hang-up that we have? To me a penis is like your arm. You know? Your penis or your vagina is just another part of your body. But as adults we're so freaked out by it that we almost laugh at it—we find it funny to say. We're so fucking uptight. We are fucking crazy. We've gone mad.
Playboy: Were you actually surprised when the FCC came after you?
Stern: I honestly was.
Playboy: Why?
Stern: When I got into radio, the FCC was the guys who, if you didn't take your meter readings right and all that kind of shit, were going to come down and pounce on you. They never really appeared to do anything. So when suddenly, out of the blue, they said, "Hey, by the way, we're censors and now we're going to tell you what you can say and what you can't say," that shocked the shit out of me. It was like, "Wait a minute, guys, when did you start doing this?"
"Oh, we've always had the right to do this. We just never had a reason before you."
"Oh, really? OK. And what is it you guys are afraid the American public might hear?"
"If you mention anything at all about penises or going to the bathroom—"
"You're kidding. You mean, that's bad? No one knows about penises or about going to the bathroom?"
"You can't talk about it."
The whole thing is shocking, so, of course, I was shocked by it. Quite frankly, what's happening to me is pretty scary. The reason most journalists and people in the business are not put off by it is that it's me. "Howard Stern's a fucking goof. That's not real journalism. That's not real freedom of speech. They would never come after me."
But suddenly you start to see censorship being OK. You're starting to see Disney take scenes out of movies, Beavis and Butt-head being moved to another time slot for the most ridiculous reasons, when you know that poor parenting causes the problems.
Playboy: What are the latest charges against you from the FCC?
Stern: Right now, there's one guy who keeps filing against me every week, and the FCC immediately acts on it. They seem to fine me most whenever there are big jumps in my career. When I hit number one in Los Angeles, New York and Philly simultaneously—and it really looked as if I was going to sign about 300 radio stations to carry the show—the FCC came in and smacked me with $750,000, $800,000 worth of fines. I know why they did it. They were saying to the rest of the industry, "Don't put Howard on the radio."
Playboy: How many complaints and charges against you?
Stern: About five.
Playboy: Total fines?
Stern: A million and some odd dollars. But when you say a complaint, it's one guy complaining out of millions of people. How can you tell me that's legitimate? One guy has a hang-up about the show. He has a wacky bug up his ass about sex. For whatever reason, he feels he's the protector of all children or something. He has a crusade going on. That's his right, I guess, so long as he doesn't lie when he files those charges. But as long as he is filing, it's the government I have a problem with. Why would they take any of that shit seriously? You would have to show me a study or an impact survey that says what I'm saying is bad or indecent. I don't think there's a court in this land that would find me indecent or obscene.
Playboy: How do you define indecency?
Stern: I don't. If you're asking me subjectively to make a call on what indecency is, I would have to go with child pornography, abuse, murder, raping young boys if you're a priest. All these are indecent. But as far as talking about them on the radio, I have no problem.
What's going on is absurd. If I tell you some of the stuff that I've been fined for—for a guy playing the piano with his penis. Fucking Donahue did a whole show on penile implants. Getting it up. Erections. Arousals. And yet there will be no fines over that.
It's called selective enforcement. But you can't selectively go after me and no one else. The laws have to apply to everyone. Still, if you have a psychiatrist sitting up on the stage with Donahue, then it's legitimate. If you have me sitting around cracking jokes about sexuality, that's considered frivolous. To me, free speech is free speech. You can't decide in what context you can speak about these things.
You know, I used to go on the air and talk about my anal fissure problem. I had a problem with my anus, and I talked about it and how I cured it. They want to fine me for that. I probably helped a million people with that—that's self-help. But it's coming out of my mouth. Anus out of my mouth is bad. Penis out of my mouth is bad. But penis out of Donahue's mouth is good. Donahue can say he's talking about penis because he wants to help people and I'm talking about penis because I want ratings. Bullshit. Donahue talks about penis in November because he wants big sweeps. I'm talking about penis because I know it's interesting to people. We have the same motivation. Don't tell me he's doing it in a good way and I'm doing it in a bad way.
Playboy: You once prayed aloud on the air that the head of the FCC would die of cancer. You wished death on Don Imus when his lung collapsed and he was hospitalized.
Stern: Right.
Playboy: Are you really surprised that some people get upset when you say those types of things?
Stern: I couldn't give a fuck what people think about me. If there is a person out there who can tell me that they never wished, at some point in their lives, that somebody would drop dead—someone who's a big pain in the ass—I'd say they're full of shit. Hey, it's mind-blowing to me that so many people care that I say that stuff. Who am I, God? I wish cancer on somebody, and they're really going to get it? Are you giving me that much power? People treat me like the fucking Pope. I mean, people are insane. They're crazy.
Playboy: Let's say your case goes to the U.S. Supreme Court. Isn't there a possibility that Justice Clarence Thomas may have seen you in blackface, imitating him on your TV show shortly after his confirmation hearings?
Stern: I know he saw me. Clarence Thomas is not a fan of mine.
Playboy: Does he look like someone who can take a joke?
Stern: No, I don't think he can take a joke. If it goes to the Supreme Court, though, the Court will look pretty silly saying my shows are indecent. I don't think any court will find me indecent. I know what I do and it's not indecent.
Playboy: You're a frequent target of the Reverend Donald Wildmon's. To your knowledge, has he ever successfully threatened an advertiser of yours?
Stern: As far as I'm concerned, advertising boycotts never work—no one ever abides by them. People are too lazy and fucked up. They don't even care. Sponsors get nervous and say, "Oh my God, we're going to be boycotted." But people don't do that. They don't give a shit. The Jews are buying fucking Mercedes-Benzes, for Christ's sake. How much more information do you need in terms of boycotts? The Germans gassed 6 million people, and people are buying Mercedes-Benzes.
Playboy: You're seldom referred to without some sort of adjective modifying your name: shock jock, coarse, sleazy, vulgar. Does that bother you?
Stern: It makes me feel bad because I genuinely feel that the show is more than that—that it's innovative. It disturbs me that critics don't have a sense of history about radio—about how dull it was, and that there's at least somebody here trying to do something interesting with the medium.
We've created a certain attitude, a certain looseness. You never used to hear people talking about their sex lives or about anything that involved the real world. Radio was dull. It was nothing. It was either music or lame talk shows with some bullshit phone calls. So, yes, it does bother me that none of them, even the critics, acknowledge the changes that the show has brought about in radio.
Playboy: You're charged with being a role model, and a bad one at that.
Stern: People try to make the argument that if somebody hears Howard Stern say penis on the air, men will no longer respect women sexually. Where the fuck is that written? Who has done a study that says if a young boy hears about the vagina, he's going to turn into a rapist?
Playboy: But it isn't just that you're saying the word vagina—it's the context in which you're saying it.
Stern: I don't see it.
Playboy: The charge is that you objectify women in a sexual way.
Stern: All of society does that. Women are sexual objects to me. They're also a lot more—to most men, I would hope. I mean, my relationship with my wife is as a friend, someone I can relate to, someone I can talk to. She's the only person who loved me when nobody else did. She stuck by me. I talk about that on the air. It's not as simple as saying, "Howard just sees women as tits and ass," because that's not what the show is about.
Playboy: Do you have a political impact?
Stern: I think that I have affected elections. So, yeah, I guess I do have a political impact. I know for a fact that I was influential in getting [New York] Senator Alfonse D'Amato reelected. I know I generated votes for Governor Christie Whitman in New Jersey. I even think, to a large degree, I influenced a lot of people in New York and Los Angeles to vote for Clinton.
Playboy: What do you see as your political responsibility when you're on the air endorsing candidates?
Stern: It's hard to take my politics seriously when I say I'll endorse the first gubernatorial candidate who calls in to the show. Christie Whitman got our endorsement because she called in first.
It's all sort of frivolous and fun. Anybody who would be influenced by my goofiness has a mental problem.
Playboy: Let's run down some of your political views. You're a proponent of the death penalty. Why?
Stern: Because I think it's a deterrent if we say to a guy, "You're going to fucking die." We have no room in prisons, and you're telling me there's not going to be a death penalty? We have to start killing people. You can't rehabilitate these schmendriks.
Playboy: Abortion?
Stern: The idea that we should say to a woman, "We want you to have your baby," is absolutely sick. You have the biggest scuzballs in the world picketing against abortion. They're so full of shit, it's coming out of their ears.
There are so many fucking fetuses that are unwanted right now and so many people who can't raise children. I wish there were more abortions. The country is completely overpopulated. In fact, I think they should allow abortion up to the ninth month of pregnancy. They should vacuum and suck out every bit of that baby. The best thing in the world is that there's abortion.
Playboy: The war on drugs?
Stern: I'm in favor of legalizing all drugs. There are so many legal drugs at this point. There isn't a woman on Long Island, I think, who isn't addicted to Xanax or Valium or whatever those fucking drugs are. But we picked out certain ones—heroin, cocaine, pot—that we think are bad and say, "You can't have these." Yet you would eliminate half of the crime in this country if you made drugs legal.
I haven't done drugs in ten, 15 years. But I needed to experiment with them at a certain point in my life. I tried every one of them.
Playboy: Was the experiment a success?
Stern: No, not for me. I used to smoke more pot than anybody on the planet, and I hated every minute of it. I'd get completely paranoid and have to run to my bed and go to sleep. But I did it because I wanted to look cool and get laid.
The one drug that I really loved was Quaaludes, or any kind of down that sedated me and made me forget who the fuck I was and how disgusting and ugly I was. I loved that sensation. I self-medicated through high school.
I would make drugs legal, but I'd advise my kids not to take them. Would that stop them? I don't know.
Playboy: Gay rights?
Stern: I'm all for gay rights. Homosexuals should serve in the military. I think that a guy should have every right to fuck another guy in the ass, as repulsive as I find that. And lesbianism, you know I support that. Wholeheartedly.
Playboy: We'll get to that in a bit. You took a lot of heat for your remarks about the Los Angeles riots and Rodney King. You were called a racist for suggesting that the police should have fired on the rioters, and that Rodney King had it coming.
Stern: If I'm afraid to talk about these issues, then I'm a racist. I have no hatred for black people or Spanish people or Chinese people. But I think we have a real racial problem in this country. There's an inordinate amount of crime in the black community. That doesn't mean all black people are bad. It means that there's a problem.
I believe the Los Angeles riots were complete lawlessness. It had nothing to do with civil unrest or making a statement. I think 99 percent of the people out there were there just to steal free televisions. If somebody steals, they should be shot at.
Playboy: You also got a lot of angry responses for saying that Magic Johnson was the victim of his own reckless behavior, while the media canonized him after he admitted that he was HIV-positive.
Stern: It turned out that I was right. Whenever I say something, I say it right at the moment I'm thinking it. As soon as I saw the Magic Johnson press conference, I said, "It's bullshit. Why are you idolizing a guy who's a tremendous womanizer? He's running around having unprotected sex in a day and age when he should know better. You shouldn't treat him as a hero."
I got a call from the program director of my Los Angeles radio station telling me to shut the fuck up about it. They'd never seen so many angry phone calls. I said, "I don't give a fuck. This is ridiculous and I'm going to talk about it. I'm going to talk about it right now, you pricks." I hung up and went on the air and I started talking about it. And then two days later everyone was saying the same thing I was saying.
Playboy: Do you think most guys feel the way you do about women?
Stern: Yes.
Playboy: Why?
Stern: I'm a guy and I've grown up around men. I've spent a lot of time in conversations with men. I have yet to find guys who talk differently than I do. I represent maybe the crudest form of a man's sense of humor, but that's what guys like. That's what they laugh at.
Playboy: What's the thing that women have the hardest time understanding about men?
Stern: That we'd rather be with each other. I think men really enjoy other men for conversation and hanging out. But we're so into that pussy. What women have between their legs is unreal. They have such a hold on us. So the idea of the sensitive, caring man doesn't exist. It's just not there.
Playboy: Is there anyone with whom you feel comfortable enough to kick back and not worry about who you are or whether you're being evaluated?
Stern: My wife.
Playboy: Besides your wife.
Stern: No.
Playboy: Does that bother you?
Stern: No. I think that's normal. I can't imagine trusting anybody, because anybody I've ever trusted has always blown that trust. You know, I don't—I can't imagine a person I would do that with other than Alison.
Playboy: You don't have close friends?
Stern: No. I don't. And I don't miss it. My wife misses the socializing and all that kind of shit, but I don't want to do it. I'm completely antisocial.
There were a couple of years in our marriage when my wife said, "For me, you have to start going out with other couples. I've got to have friends." And I said, "OK, I'll do it." And we would sit at a dinner table and the guy would start talking about what went on in his day and then I'd have to start talking about the radio show. And everyone's smiling. Drinking wine. It just bored the fucking piss out of me. I would just fantasize about being home, watching TV.
Playboy: You just turned 40. How does that feel?
Stern: I didn't think that would freak me out, but it has.
Playboy: Why?
Stern: I think I feel like it's coming to a close. I mean, 40 seems old to me. I kind of feel like, Wow, is that it? I'm 40. Oh, shit. Then you go through that crisis like, My God! I haven't fucked anyone different in 20 years. I've never lived on my own, really. What have I done in my career and what else could I have done? And do I even give a shit anymore?
Playboy: Are you the same kind of father your father was?
Stern: No. I definitely think I'm better at it than he was. I shouldn't say better. Who knows? I mean, he was involved. You know what I mean? In a weird way. But I've never yelled at my kids. I've never had to hit them. I check in with them every once in a while and ask them if they're having fun—if their life is good, if they love being kids and if they have a really good self-image.
Playboy: What aspect of fatherhood still spooks you?
Stern: I guess it's the whole idea of my daughters actually starting to date. Emily came to me and she has a boyfriend, some boy at school she likes. And I said to my wife, "Oh, that's going to be my nightmare." You know, when they start bringing home boys.
Playboy: How are you going to deal with their sexuality?
Stern: I don't know.
Playboy: You're a guy. You know what guys are after.
Stern: Yeah. I have often said on the air that I hope that my daughters grow up to be lesbians. I could deal better with that. They're probably going to meet guys who are like I was, who just want to get fucked. And the thought of that really sucks. I'm going to try to warn them about guys, and I guess they're going to learn on their own. I think guys are scumbags for the most part. [laughs] I don't know.
I would rip the fucking guy's nuts out if he hurt my daughters. I just hope they meet some nice guys. I don't know if there are any out there.
Playboy: What if one of your daughters winds up in a radio studio someplace, showing her breasts to a disc jockey, just like women do with you?
Stern: Oh, fuck, man! You're really killing me today. You're killing me, bro. I don't think I'd like that. But, if that's the way they grew up, I would accept it. I don't think my kids are going to do that. See, there's that weird little thing. You know, I love strippers and shit—girls who come down to the radio station and take their tops off. Party girls. But would I want my daughters to do that? Probably not. I want my daughters to be nuns.
Playboy: While we are on the subject, let's talk about your sex life. Let's start with the big question: How small is your penis?
Stern: It's very small. It's tiny.
Playboy: How big is it when fully erect?
Stern: Well, I grow to tremendous heights. I'd say I'm at least average, five to six inches. But every guy I see is bigger than me. Flaccid, I'm in a sorry state.
Playboy: Has this shortcoming shaped your whole view of life?
Stern: Yeah. It's shaped a lot of things. I know that I would be the type of guy who would be in public showers if I had a big cock. Growing up as a kid, I never participated in sports because I didn't want to take showers and have guys see my penis. Even a simple thing like going to a urinal. I do not like my penis exposed, so I go to a fucking toilet like a woman. It has definitely shaped my life. I think I would be a different kind of guy if I had a big penis. I would like to have a big penis.
Playboy: When you went on the Letterman show to promote your book, you reminded him that the secret to your success is, was and always has been lesbians. Why do men love lesbians?
Stern: I picture myself in bed with two girls at the same time. These lesbians would be hungering for cock, and they would come to me for it.
Playboy: But they're lesbians. They like other women.
Stern: Yeah, they're lesbians, but most guys believe that, hey, they have to be aching for something inside of them. Or maybe they'll just take pity on me and take me in. Even if worst comes to worst, I'd get to stare at two girls making love. Just seeing two girls eating each other out is beyond belief in terms of excitement level.
Playboy: Why?
Stern: Visually it's a turn-on—perhaps the most erotic thing one could watch.
Playboy: What would it be like for you to be single at this point in your career?
Stern: I think it would be phenomenal, one of the most exciting propositions in the world. I'd probably be dead from AIDS or something, but I have my whole single life worked out.
In my mind, I would meet a girl, I would take her to this doctor, and he would check her—just go in there with a mining helmet. I don't want to get herpes or AIDS or syphilis or anything. Because I'm a celebrity, I'm sure it would be easy to get them to go to the doctor to get checked out. And after that, I would fuck them. All the time.
Playboy: Say your wife just died. Who's the first person you'd call for a date?
Stern: There are a couple of girls who come to mind: Amy Lynn Baxter, a Penthouse Pet I know real well, who has a phenomenal body. I'd probably fuck Jessica Hahn, just for fun. Patty Smythe, the singer—her for sure. She's really sexy. There aren't many girls I wouldn't fuck. And I wouldn't stop for a minute. I'd be with somebody every night.
Playboy: Would you remarry?
Stern: No. I would not. I would just fuck. Like a dog.
Playboy: Who taught you about sex?
Stern: Nobody ever sat down and explained the facts of life. There was no real sex education. In fact, I wish I had porno movies back then, because I think they are the best sex education in the world. The fact that you can sit there and watch what guys do to girls and how they fuck them—if I had known that, I would have been much better with women. I needed a demonstration.
Playboy: On the radio you discuss the fact that you masturbate almost daily.
Stern: Nightly.
Playboy: Yet you've convinced your wife that you don't?
Stern: That's correct.
Playboy: How? Why?
Stern: I tell her I don't. I say, "That's radio, I'm acting." I tell her that because I'm embarrassed to admit it to her. As a person on the radio, I feel I can confess to anything and be totally honest with my audience. In real life, I'm a maggot who is kind of wormy. Who wants to admit to his wife that he beats off all the time? And my wife's never caught me, so she can only wonder.
Playboy: So what do you actually do?
Stern: I wait until my wife and kids leave the house. Then I run downstairs. There's a porno movie with Heather Hunter—it's an all-girl film, with three lesbians getting it on throughout the whole fucking film. So I watch that. And I watch it in ten-second spurts because it takes me ten seconds to shoot off.
I'm not interested in seeing guys getting blow jobs. It's almost, like, homosexual to watch that. I don't enjoy seeing a guy's cock in a porno film. I don't mind watching a girl get fucked, but I don't want to see some guy getting a blow job. It really turns me off. My theory is that most porno films are made by homosexuals. They concentrate on so much cock. Only a gay male would make these films.
Playboy: What turns you on most about women?
Stern: I am so turned on by women. I mean, I am just so fucking in love with women. Mostly I'm a vagina man. You know, some guys are leg guys, some guys are butt guys. I love the vagina.
Playboy: Why?
Stern: It feels incredible. I can't stay in a vagina more than 15 seconds before I come. It's terrible.
Playboy: And that's the sexiest part of a woman?
Stern: Her vagina. Yes. Absolutely.
Playboy: What haven't you done sexually that you wish you could talk your wife into?
Stern: I haven't had anal sex with her, but I'll tell you something: I haven't had anal sex with anybody. I picture anal sex with a young, 19-year-old girl. A 20-year-old girl.
Playboy: Why?
Stern: It's invading a nice, young, clean asshole. At this point, I know my wife too well. I've seen too much shit come out of that asshole. I don't want to go in it. And I know she would hate it. To me, the biggest power one person can have—once they get to a point where they're well-known—is the power over women. Yet I don't even partake in those benefits, which really sucks. That really bugs me. I mean, the thought that you could fuck just about anyone you meet is a childhood fantasy. But I don't want to fuck up my relationship with my wife. I don't want to fuck up my relationship with my wife. I chant that like a mantra.
I'll tell you how thick this guilt complex becomes. Whenever I have dreams about having sex—and I have a lot of them—with one of the girls from the show, whether it's Jessica Hahn or someone, it goes like this:
I walk into a room, they're naked, we're about to get it on—and then all of a sudden the whole dream stops. Because I'm married. I never consummate. I don't even make out with these women in my dreams. That's how thick the fucking guilt complex gets. You know, it surrounds you, it envelops you.
Playboy: On the other hand—
Stern: I have three children who are very important to me. And I have a woman who's stood by me. No matter how many women I would fuck, I don't think I could find one who was as good a friend to me as Alison has been. And I would hate to give that up. She's a rare individual, a rare find.
Playboy: How do you define cheating?
Stern: Cheating is when you stick your dick into a vagina. Or when you get a hand job or a blow job—that's cheating. There was a DJ who, when I was working in another city early in my career, said to me, "I got an incredible blow job at the Journey concert the other night."
I said, "Aren't you married?" That's how naive I was.
He goes, "Yeah."
"And you got a blow job? What about your wife?"
He says to me, "Stern, a blow job isn't sex. I would never fuck another girl. But a blow job isn't sex." So everybody has his own way of looking at what sex is. People say to me that there's nothing wrong with having sex with other women and also being married—people I respect have said that to me. Well, maybe I'm old-fashioned, but it just seems wrong.
Playboy: Under what circumstances could you see yourself saying, "I have enough. I'm going to stop and take it easy." Or, "That's it, I'm fed up. I quit"?
Stern: I debate that every day. I came in to work today and wanted to fucking quit. There's so much shit going on around me every day, I'm always running in and out of here. It's been a whole career of that. There are times I get real tired and take a week off. And before long I go, "What the fuck am I doing? I'm just sitting around the house."
I have said to my wife for the whole time we've been married, "We should pack it in and sell everything. Then we'd have enough money to live in Iowa." It's always been Iowa; there's a big transcendental meditation center in Iowa. So I've said, "We'll go live around there. We'll meet a lot of people who are real mellow." And in Iowa, you could probably get 300 acres for ten cents.
So that's my fantasy. And I firmly believe that I'd be happy doing that.
Playboy: Then why don't you do it?
Stern: I don't know. I think I'm afraid to do it. I've always been someone who needs to have a job. I need to go to work for somebody. I'm insecure.