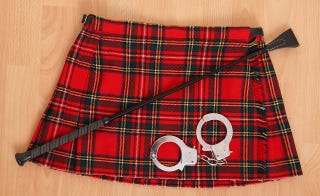 Fifty Shades of Grey has quietly turned into the Uncle Tom's Cabin of kinky sex. This news comes from Kink Aware Professionals, an organization established in 1998 to help protect bondage fans, cross-dressers and other kink practitioners from legal and workplace discrimination—for example, the mother from New York who almost lost her kids because she managed an online bondage group.
According to its spokesperson, a science-fiction novelist named Susan Wright, Kink Aware Professionals got started in the early 1990s by a kink-friendly therapist who needed help with his case overload. The need was substantial. In a survey of 3,000 kinky types Kink Aware Professionals conducted in 1998 with another group called the National Coalition for Sexual Freedom (NCSF)—the two groups later merged—more than 550 people complained of discrimination by medical professionals and psychotherapists. Often, Wright explains, "Therapists would say, 'I can't treat you anymore until you stop this destructive behavior.'"
Soon, the united groups began expanding their scope to legal cases. Here the problem began with police officers, who often refused to take charges of domestic abuse or domestic violence seriously if a BDSM relationship existed. "If he's whipping you at night," they would ask, "how can you complain if he smacks you around during the day?"
Lawyers were a problem, too. Sometimes they'd mock their clients or make disparaging remarks about their "disgusting" behavior. Other times they'd urge their kinky clients to take plea bargains unjustified by the underlying charges, mixing up their own disapproval with the disapproval they expected from the judge.
Though judges were a legitimate problem as well. In one case, Wright says, the judge said he would take a child away from a mother unless she stopped seeing her bondage partner.
A young Brooklyn lawyer named Diana Adams described some typical cases to me. Her first foray as a Kink Aware Professional was a custody battle between a pre-school teacher from the suburbs of New York City and her husband, who sued for full custody of their three-year-old when she left him for a man who introduced her to BDSM. Denouncing her as a "sex addict," her husband even mailed pictures of her in bondage gear to the parents and administrators at the pre-school where she worked. "When she came to me, she was in an absolute panic," Adams tells me. "She felt like her life was falling apart."
Adams contacted the school and reminded them that her client was popular with the kids and had never been inappropriate around them in any way. She then suggested that they should have tried to protect her from her husband's harassment. Later, in court, Adams cheerfully answered a wide range of questions posed by the genuinely perplexed judge:
What if the mom was tied up when her kid needed help with her homework? (Like most parents, Adams said, her client would wait to have sex until the kid was asleep.)
Did her "dom" control every aspect of her life? (Like most human beings, Adams explained, her client knew the difference between sex play and real life.)
Would it be possible to restrict her bondage play to times when the daughter wasn't home?
That's when Adams drew the line. "I said, 'Absolutely not, we don't tell adults when they can have sex. Would you tell a couple who prefers conventional sex they can only have sex when their kids are out of the house?'"
She won that case, but it was in a liberal part of the state. In another custody battle in a conservative county farther upstate, she defended a man whose wife—they were separated, but not yet divorced—sued for custody after he moved in with his girlfriend. This time things went much differently. "The judge said, 'Adultery is not only a crime in this state, but a sin in my courtroom. I suggest you and your client need to read the Bible.'"
The wife got sole custody.
After a regular stream of such cases, Adams came to believe that justice in America is geographical. "By now, I can predict the outcome of a case based on longitude and latitude. The farther north or south, the more conservative the judges are. When people say they can't get justice in Mississippi on this issue, I have to tell them, 'Maybe you should move.'"
In all such legal battles, one of the biggest stumbling blocks has been the Diagnostic and Statistical Model for Mental Disorders, the American Psychiatric Association's official manual of mental illnesses, which famously listed homosexuality as a mental illness until 1973. Since the DSM manual is used by police, prosecutors and judges as a guideline for everything from what charges to bring to what sentence to impose, which lends legal power and legitimacy to the burden of social disapproval, the de-listing of homosexuality was a major turning point in the struggle for gay rights—and just as Rick "Man-on-Dog" Santorum predicted, groups like NCSF and Kink Aware Professionals took inspiration from it.
To achieve the same equality for kinksters, the NCFS began a "DSM Revision Project" that lasted five years, doing surveys and mass mailings to mental health professionals and writing "friend-of-the-court" briefs. Slowly, minds began to become enlightened. Wright claims they can even take credit for one change at the level of the English language: "The phrase 'consenting adults,' you didn't hear that in the media 15 years ago. That's something the NCSF has been repeating ad nauseum to reporters. So much so that now it's common."
But the real payoff began in 2010, when the American Psychiatric Association announced that they were considering dropping "paraphilia" like S&M and cross-dressing from the DSM entirely. Immediately, the NCSF and Kink Aware Professionals began introducing this information into child custody cases. In the case of the woman who almost lost her kids over the online BDSM group, the judge told a government social worker on the case, "You're not up on the science about this. You need to do some reading."
As word spread, one dramatic index of the change became apparent—calls to the Kink Aware Professionals hotline began to drop. After holding steady at about 500 a year for more than a decade, they fell to half that in less than four years. Wright broke out the child custody numbers to illustrate the steady decline:
2010—125 calls.
2011—115 calls.
2012—87 calls.
2013—approximately 45 calls, though the final numbers haven't been tabulated.
Another example was the success rate of pro-kink arguments in child custody cases. Five years ago, lawyers from the Kink Aware Professionals network won their arguments only 20 percent of the time. "Now the rate has risen to 50 percent," Wright says.
Credit for much of that decline goes to E.L. James and 50 Shades of Grey, Wright says. In 2011, just as change was coming to the prestigious establishment artifact that is the DSM, James released the extremely un-prestigious novel she had begun as Twilight fan fiction. By the time the revised DSM-5 finally came out, Fifty Shades had sold nearly 90 million copies in 52 languages—and turned James into the Harriet Beecher Stowe of bondage.
"Funny as it sounds, that romance novel changed the social understanding of BDSM and S&M," Wright says. "It told people, 'It's okay to be kinky. You're not mentally ill.' Now people are curious and much more open to the idea of kinky sex. That's a sea change. People are seeing that it can happen in a relationship between lovers."
With her novelist's eye, Wright says one of the biggest factors in the public fascination is the contract the hero asks the heroine to sign, and the discussions the couple has around that decision. "Honestly, the reason Fifty Shades got such a huge reaction is it showed two people really talking about sex. It's always been this mysterious thing where you look them in the eyes and it's just magically amazing. But people have realized that the kink community is teaching them how to communicate to your lover what turns you on, to be brave enough to say what turns you on. Very few people are talking to adults about how to do this, and that romance novel did."
Now, to the barricades! "There's still a cultural paradox we need to break through," says Adams, who, in addition to lecturing law schools (and once, the U.N.) on kink issues, lives in a polyamorous relationship and considers herself a "sexual civil rights" activist. "We still describe marriage as a form of accomplishment, a form of success, that everyone should aspire to get married. But more and more people are choosing not to get married or stay married or have alternative marriages. More than half of American adults shouldn't be considered failures."
In her mind, all the recent talk about how great marriage is for poor people who can't control their libidos is just another attempt to return to a fantasy of the good old days when men were men, women were submissive and sheep were nervous. "When people are shamed about their desires, they cheat on their spouses, they end up with hookers or they cheat and then tell their spouses, 'Honey, it doesn't mean I don't love you.' People need to learn how to negotiate their desires. It's time for us as a culture to grow up."
Tremble in fear, Rick Santorum.
---
John H. Richardson is the author of My Father The Spy, In the Little World and The Vipers Club.
This article was originally published on Playboy for iPhone. For more exclusive content and the best articles from the latest issue of Playboy, download the app in the iTunes Store.
Photo by ©TimLarge/Alamy