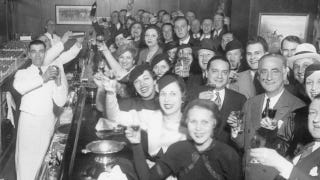 Today, in bars across the country, people will come together to drink old-fashioned and new-fashioned cocktails from, or inspired by, the Prohibition Era. Often outfitted in period dress and accompanied by 1920s-style swing music, guests will revel throughout the night to celebrate the day that came before it. Why all the fuss? Two words—Repeal Day.
Listen, I get it: There are already a lot of other days devoted to drinking—St. Patrick's Day, Mardi Gras, Cinco de Mayo and the abomination that is SantaCon. "So why do we need another?" you ask. Because those drinking "holidays" are pretenders to Repeal Day's throne. Repeal Day isn't filled with beads or leprechauns; it's entirely about celebrating booze. And why celebrate booze? Because, unlike debasing yourself in a Santa costume, the right to drink is protected under the Constitution—or to be exact, the 21st Amendment, which officially ended Prohibition.
The Era of Prohibition (1920-1933) was a dark time in American history. The criminalization of alcohol—fueled by rabid, mouth-foaming campaigns by the Women's Christian Temperance Movement and the maniacal, axe-wielding Carrie Nation—temporarily banned alcohol in the U.S. with the 18th Amendment (though consumption levels never changed much). It gave birth to a period of organized crime and severe economic Depression. Brilliant. (Okay, the stock-market crash and Smoot-Hawley might have contributed to the economic collapse a little bit.) Needless to say, that first Repeal Day back in 1933 was something of a national party, replete with martinis and manhattans. Unfortunately, it was likely the last such party for the next seven decades.
I remember the first time I heard about Repeal Day. It was 11 years ago and I was tending bar in Portland on a slow Thursday night. One of my regulars was seated in front of me, reading the paper. Noting the "This Day in History" section, he mentioned almost offhandedly, "Today is the 69th anniversary of the repeal of Prohibition."
How could I, someone devoted to drinking alcohol and serving it to others, not know about this? If I didn't, I figured everybody else hadn't either. And so, I set out to let the world know about Repeal Day by publicizing it in my bar and on my blog and by establishing repealday.org. My friends in Washington, D.C. jumped on board immediately, and our earliest Repeal Day celebrations found us in a sort of five-hour-long bi-coastal, bar-hopping simulcast, with me in Oregon. We sent pictures and drunken texts back and forth to each other as we snowballed across our respective cities. As the night went on, we picked up more and more revelers at every historic stop on our lists, including Martin's Tavern, the oldest tavern in the nation's capital.
Ever since, Repeal Day parties have been gaining in popularity—from Los Angeles to New York City to D.C. But Repeal Day isn't only important to those of us in the bar business, who without it would find ourselves in the unemployment line, but to all Americans. Once again, we have the right to pick up a six-pack on the way home from work, crack open a bottle of wine with friends over dinner or head out for happy-hour cocktails.
It's been 80 years since we were given back the freedom to celebrate with a drink in our hand so on December 5, celebrate that freedom. Doing otherwise would be downright un-American.
---
Jeffrey Morgenthaler is the bar manager at Clyde Common, the acclaimed gastropub at the Ace Hotel in Portland, Oregon. He is the founder of RepealDay.org.

This article was originally published on Playboy for iPhone. For more exclusive content and the best articles from the latest issue of Playboy, download the app in the iTunes Store.
Photo by © DIZ Muenchen GmbH, Sueddeutsche Zeitung Photo/Alamy