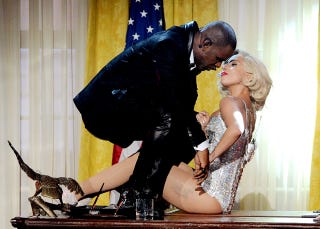 If R. Kelly is a joke, he's laughing longer and louder than the rest of us. The R&B maestro's lover-man persona has become so amplified over a 20-year run that he's practically become a self-parody; his sexual appetite and musical prolificacy so tireless that he seems to defy the laws of science and common sense. The man born Robert Sylvester Kelly has beaten child-porn charges and risked his reputation by extending his hopelessly dopey Trapped in the Closet video anthology over a series of years. (More chapters are coming in 2014.) And yet despite these factors—or perhaps because of them—he resides in his own realm of bizarre genius. Any ordinary artist can be talented or ridiculous or controversial—combining those three qualities has made Kelly an object of endless fascination.
Kelly's hyperactive shamelessness continues on his new album, Black Panties, which is a return to frank sex music after two records of old-school, SFW soul tunes. On the album cover, Kelly sets the tone for the 13 tracks inside, portraying himself as a Phantom of the Opera­-esque masked lothario playing a scantily clad beauty sitting on his lap like she's a cello. As with most everything Kelly does, the image is simultaneously funny, stupid, sincere, self-aware and absurd. It's not so much a question of whether he's joking but, rather, what degree of ludicrous he's pursuing at any one point. And while it's easy to mock his explicit come-ons and expertly manicured R&B and slow-jam soul, I appreciate Kelly because there's no nuance—especially in an era of R&B highlighted by more introspective and angst-y niche artists like the Weeknd. He wants a lot of pussy, and he's going to get it.
Black Panties kicks off with one of its finest tracks, "Legs Shakin'," a typical R. Kelly tale of meeting a beautiful lady at the club and then taking her home and getting nasty between the sheets. His bedroom strategy is solid: "Lick it 'til she's shiverin'/ And then I'm gonna look her in her eyes / Tell her I love her." He's not being a hit-it-and-quit-it creep, though: The seduction of his shimmering, buttery voice betrays no hint of menace. He wants to wear the girl out, but the pleasure is shared and passed back and forth, Kelly focusing on her needs "until your body comes / until we see the sun." If that isn't enough, he also mentions he's got a "taser tongue," which, of course, he knows how to use expertly.
Such overblown declarations of sexual proficiency have long been his staple. In the past, he's sung about interstellar sex ("Jupiter, Pluto, Venus and Saturn / I'm leaving Earth, girl, to explore your galaxy") and compared his lovemaking to different animals ("Girl, I got you so wet, it's like a rain forest / Like Jurassic Park except I'm your sexasaurus, baby"). The overtness of his sexual confidence carries over to his live shows, which apparently are female-centric sensual odysseys filled with pelvic thrusts and onstage dirty-talk. But Kelly's ceaseless pursuit of pleasure makes him an easy target for comedians like Aziz Ansari, who loves the artist's work but nails his penchant for self-parody. (After describing a moment from a Kelly concert where the singer simulates ejaculating by flashing a spotlight across the crowd, Ansari recalls thinking, "Whoa, you are not gonna see shit like that at a Modest Mouse concert!")
There are plenty of reasons to find Kelly hilarious. Beyond his lyrical whoppers, there's also Trapped in the Closet, a campy collection of serialized adventures starring the singer as a man who gets involved in a complicated one-night stand, leading to encounters with stuttering pimps and stripper dwarves. The so-bad-it's-good quality of this "hip-hopera" is the clearest sign that Kelly understands (and is exploiting) some in his audience's fascination with his gonzo weirdness. "I don't have a job, so I just sit in the studio all day and think of stupid stuff to do," Kelly told a crowd last year at a New York screening of Trapped episodes. "And this is just something stupid that I've done that's been successful for me and I've been having a lot of fun with it."
Stupid and fun occasionally slow dance on Black Panties as well. When the album streamed online before its release, different publications began running online items listing some of the crazier lyrics. (A personal favorite: "My bed could be your stage and I'mma make you a star / Your legs in the air, my hands all up in your cookie jar.")
But don't discount Kelly's artistry because he's written love jams with titles like "I Like the Crotch on You." His brand of blatant horniness is actually kind of liberating. Living in a society that remains deeply uptight about sexuality, I confess that Kelly's forthrightness can be a relief, a way to blast through the awkwardness of most public conversations about screwing. He creates an environment where unembarrassed sex talk can thrive and personal peccadillos aren't judged but instead given room to breathe.
However, his brand of liberation and adventurousness comes with serious moral complications. Kelly spent years fighting child-porn charges. (He was accused of recording a sex tape with his goddaughter—a minor—that included footage of him urinating on the alleged victim; he was eventually found not guilty in 2008.) Prior to that, he settled other lawsuits out of court on accusations that he had sex with teens, and there were also rumors that he secretly married singer Aaliyah when she was only 15.
There's nothing funny about such accusations, and they've continued to hound his public image. When Jezebel writer Isha Aran recently praised Black Panties as "a magnificent ode to pussy," commenters harshly criticized her. "Sorry but I don't support this man and I wish the Black community (and everyone else) would stand up more when Black women and girls are sexually abused," wrote one commenter. Other sites also took issue with Aran's seemingly flippant endorsement of Kelly, such as Colorlines, whose Akiba Solomon argued that "responsible and/or semi-literate adults" should boycott Kelly's music. Calling him a pedophile and a rapist—as well as "a genius of contemporary R&B"—Solomon asserted, "There has to be a code we live by. A code that says that when some people make art, even really enjoyable art, we shouldn't support it."
I understand why people, especially women and anyone who knows a rape victim, would feel this way. As a man, I know it's easy to wield the usual "good artist/terrible person" defense—which has been used in the past for problematic figures like Roman Polanski—that argues that we can appreciate someone's creativity while acknowledging that the individual might have serious personal failings. But with Kelly, it's impossible to separate his alleged crimes and his songs: The same provocative, libidinous energy that makes his sex music dangerous, beautiful and seductive comes across as disgusting and sick after you've seen the video of him allegedly urinating on someone.
Black Panties doesn't do anything to resolve one's conflicted feelings about the man's art/personality tension. (The album-closing "Shut Up" mostly focuses on those people who think he's washed-up or bankrupt, though he does perhaps work in a slight taunting reference to his time in court on "My Story" when he sings, "Pull up to the club at about three / I'm killin' it / Guilty, no plea.") For the most part, he sticks to his assigned cultural role as the outrageous lothario who's been suspected of all sorts of terrible crimes but never convicted. In the public's mind that distinguishes Kelly from Chris Brown, a convicted abuser who, unlike Kelly, has done little to suggest a rich artistic complexity or genuine weirdness that could mitigate his toxic persona.
Black pop has long had its soulful, sensuous virtuosos: Marvin Gaye, Prince, D'Angelo. Balancing seduction and darker impulses, all of these men made music that captured the sweetness and carnality of love. Kelly's creative legacy deserves mention alongside these other artists, but he's added his own wrinkle by allowing listeners to think he's really out of his mind. So when he declares himself a "sex genius" on Black Panties, I roll my eyes but I also sort of nod my head in approval—not because I agree but because I know he's serious. When he shows up at the American Music Awards with Lady Gaga for their titillating duet "Do What U Want" from her latest album, he's capitalizing on the fondness for Trapped in the Closet's campiness as well as his image as a bad-boy love machine. He might be a cartoon now, but becoming a cartoon may have helped his longevity: It keeps up from focusing on the nastier aspects of his history that, frankly, would make it a hell of a lot harder to enjoy Trapped in the Closet's silliness or Black Panties' bedroom antics.
During a Black Panties skit where Kelly talks to a buddy on the phone, the friend complains, "You'll write a song about any motherfucking thing, have these hos 'round here wet as a motherfucker. … That's why I don't bring my motherfucking hos around your ass." It's funny because of the way it's delivered, and it's funny because it's so ego-crazy. And yet, it's also strange because of Kelly's past—and it's also strange because he doesn't seem to be aware that it's strange. This makes him ridiculous—and compelling in an odd way. It's easy to suggest boycotting or ignoring Kelly because of what he's alleged to have done. But the sustained weirdness and brilliance of his career make that too damn hard. You just can't laugh him off, no matter how much we'd like to sometimes.
---
Tim Grierson is Playboy for iPhone's critic-at-large. His new biography of Wilco, "Sunken Treasure," is available now on Amazon. You can follow him on Twitter.
This article was originally published on Playboy for iPhone. For more exclusive content and the best articles from the latest issue of Playboy, download the app in the iTunes Store.
Photo by Getty