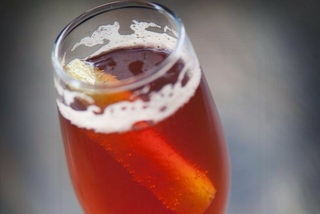 Friday night was great. That means Saturday morning is a bit hazy. As a public service to the hungover, every week we track down the best bartenders in America and ask them to share their favorite hair of the dog remedies. This week, a boozy twist on the mimosa. Go mix one up and get back on your feet.
THE SPECIALIST: Erick Castro, bartender/proprietor of Polite Provisions in San Diego's Normal Heights neighborhood
HIS ELIXER: The Beautiful Stranger
ITS ORIGINS: Castro's fizzy cure derives from the classic morning cocktail, the mimosa. The OJ-Champagne version was first served in 1925 at the Ritz Paris, a favorite watering hole of Ernest Hemingway. (Many say the French stole the idea from London's Buck's Club, which had been serving a similar OJ-Champagne concoction, the "Buck's Fizz," since 1921.) During World War II, the German Army quartered its generals in the Ritz Paris, which rubbed Hemingway, now a civilian war correspondent, the wrong way. According to legend, in August 1944 Hemingway formed an illegal militia and led a campaign to free the Ritz—and its famed bar—from the Germans. Whether Hemingway actually contributed to the Battle of Paris or not, the occupying Germans surrendered and the Ritz Paris renamed its saloon Bar Hemingway in his honor.
ITS HEALING POWERS: Polite Provisions, an old-timey soda fountain that serves classic cocktails, has a specific clientele that shows up hungover during the week: other bartenders. "At 1 p.m. on a Monday, you'll come into the bar and find people from the service industry drinking," Castro says. "They always have rough weekends." Like a real soda jerk, he likes to provide them with something fizzy.
"When you're hungover, you want something citrusy and bubbly to help wake you up," he says. "A Champagne drink is light and refreshing."
While some bartenders would prescribe a traditional mimosa, Castro elevates the Champagne tonic by ditching the orange juice and replacing it with fresh lemon juice and a local favorite—tequila. "In Southern California, tequila is in our blood," Castro explains. "People love it in cocktails here." Mexico's most famous liquor makes the drink a little more interesting and a lot more boozy. Impressed with his creation, he called it The Beautiful Stranger. "The cocktail is so elegant and sexy that it needed a name that was on the same wave length."
CASTRO'S HANGOVER PAIRING: "Order a burger to go along with the Beautiful Stranger. No one wakes up after a night of drinking and is like, 'Oh man, I could crush an Asian salad right now.'"
THE INGREDIENTS:
1 ½ oz. Olmeca Altos Blanco tequila
¾ oz. lemon juice
¾ oz. grenadine
Champagne
THE METHOD: Shake the tequila, lemon juice and grenadine in a pony shaker. Pour into a Champagne flute. Top with Champagne and garnish with a lemon twist.
---
Alyson Sheppard is a writer and editor based in Brooklyn. Her work has appeared in Popular Mechanics, Mental Floss, McSweeney's, National Geographic Adventure, the Boston Globe and more. Follow her on Twitter @amshep.
This article was originally published on Playboy for iPhone. For more exclusive content and the best articles from the latest issue of Playboy, download the app in the iTunes Store.
Photo courtesy of Polite Provisions