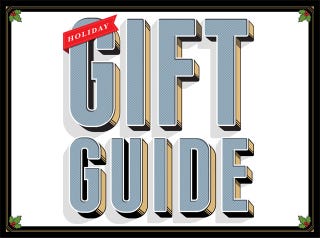 The best presents are ones that are an expression of your personality. We've curated a list of gifts that will enhance the life of every kind of man, from the Bon Vivant who appreciates the great indoors, to the Sportsman who likes to take it outside, to the Artist who lives to create.
Go for the Gold
Some of the world's top mixologists practice their craft in Tokyo. Bring a little of their flair to your mixology act with this golden Japanese cocktail shaker. Usagi cobbler shaker, $77.
Sound Off
In a world with countless "DJ-style" headphones, V-Moda models are the real deal: The difference is in the road-ready metal parts and amazing sound quality. V-Moda Crossfade LP headphones, $199.

Game On
This elegant, crocodile-embossed leather backgammon travel set from British leather-goods company Smythson will keep you entertained no matter where you go. Smythson backgammon travel set, $610.
New Jack City
Before it could be found behind every bar, Jack Daniel's was so rare Frank Sinatra kept a private stash on hand. This limited run of smooth, smoky, high-proof whiskey is designed to be sipped the way the Chairman liked it: three cubes of ice, two fingers of whiskey, a splash of water. Jack Daniel's Sinatra Select, $160.
Cruise Control
Any respectable arsenal of skateboards should include a longboard for cruising and carving in comfort and style. The graphic paint-stripe design looks so cool you won't want to cover it up with stickers. Madrid Weezer longboard, $215.
Tool Time
The Leatherman OHT is the first-ever multitool whose wrenches, blades and drivers can be opened with one hand. Features such as an oxygen-bottle wrench and a strap cutter give it EMT-grade cred. Leatherman OHT, $100.
Go Blue
If there's such a thing as an heirloom football, this is it. Handmade in the good old U.S. of A. and backed up by a lifetime warranty, this is a pigskin you'll be proud to pass down to your son. Leather Head football, $139.
Gearhead
Originally designed for the U.S. Marines, this folding bike packs extreme mobility and durability, plus 24 speeds, into a compact 29-pound package. And yes, it can fit under a (big) Christmas tree. Montague Paratrooper bike, $899.
Raw Power
Legendary German camera company Leica teamed up with apparel company G-Star to produce a tough and tough-looking digital camera built for street photography. With its rugged good looks and killer optics, you may never take another smartphone picture. Leica D-Lux 6 by G-Star Raw, $1,190.
I Thee Shred
Vintage Starcasters are treasured by guitarists in bands from Arctic Monkeys to Radiohead. Fender has reissued the model so budding indie axmen can join their ranks. Fender Starcaster, $900.
Specs Appeal
Handmade in Portland, Oregon from aircraft-grade birch and finished with East Indian rosewood, these sunglasses stand apart from the plastic-frame pack. Shwood Canby Select East India sunglasses, $275.
Mr. Hide
Yes, there is such a thing as a manly apron, and this handmade leather version will keep you clean and protected, whether you're working in the shop or manning the grill. Capps leather work apron, $375.
---
This article was originally published in the December 2013 issue of Playboy. Check out more from the issue at playboy.com/magazine.
Photo courtesy of Fender, Leatherman, Montague Bikes, Moore and Giles, MrPorter.com, Shwood, V-Moda, Joseph Shin