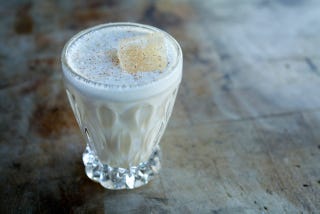 THE SPECIALIST: Erik Adkins, bar manager of Hard Water on San Francisco's Pier 3
HIS ELIXER: The Brandy Milk Punch
ITS ORIGINS: The Brandy Milk Punch is a 19th-century cocktail popular in New Orleans, where many bars serve their own signature versions at brunch. The reason why is obvious. "New Orleans knows a thing or two about hangovers," says Adkins.
ITS HEALING POWERS: Adkins drank his first Brandy Milk Punch nearly six years ago while visiting New Orleans for the five-day drinks and spirits festival, Tales of the Cocktail. "When you're in a place where the bars don't close, you can really hurt yourself," he explains. "I hurt myself so badly that trip that I honestly can't remember where I had my first Brandy Milk Punch."
The creamy punch consists of milk, brandy, rum and simple syrup; it's served cold, much like eggnog. Adkins likes it because he claims that hangovers turn his stomach into that of an infant's. And what settles a newborn's tummy better than anything else? Milk, of course. "I can't go for something acidic like a Bloody Mary with tomato juice," he says. "All of those spices are too rough on my stomach. The milk in a Brandy Milk Punch, however, soothes my stomach."
Adkins orders the punch for breakfast whenever he's had a rough night or whenever he sees anyone at Hard Water who looks like they feel similarly. "When they come in with that green hue, I make them a Brandy Milk Punch," he says. "It's perfect for the hungover, the drunk and the truly invalid."
THE INGREDIENTS:
1 1/2 oz. Lustau Reserva brandy
1/2 oz. Pampero Aniversario rum
2 oz. whole milk
3/4 oz. simple syrup
Fresh nutmeg
THE METHOD: Combine the brandy, rum, milk and simple syrup in a cocktail shaker. Shake until frothy. Strain into an old-fashioned glass filled with ice. Garnish with grated nutmeg.
---
Alyson Sheppard is a writer and editor based in Brooklyn. Her work has appeared in Popular Mechanics, Mental Floss, McSweeney's, National Geographic Adventure, the Boston Globe and more. Follow her on Twitter @amshep.
This article was originally published on Playboy for iPhone. For more exclusive content and the best articles from the latest issue of Playboy, download the app in the iTunes Store.
Photo courtesy of Slanted Door Group