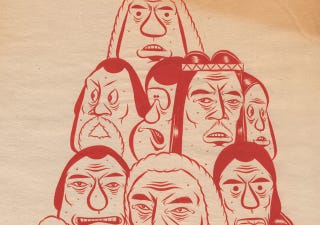 "To write orotund critical phrases about TMZ for a magazine is easy and contemptible."—Victor Hugo
Thank you for reading this terrible piece about TMZ's New York City bus tour and my father's shingles. It is an unforgivable insult to your intelligence (and to TMZ and the varicella-zoster virus, which is sometimes called VZV). It begins with a pretentious reference to the German Romantic poet Friedrich Hölderlin and ends with a disgusting scene in the men's room at the Port Authority. (There are actually two scenes in the Port Authority men's room, both gratuitous, the second of which adds the insult of being completely redundant.) It's really just a hodgepodge of disconnected fragments clumsily strung together. The whole thing is awful, and if you find any of it the least bit edifying or entertaining, I'd be shocked. Pick any smug, effete novelist in pricey eyewear from Park Slope or Los Feliz and he would have done a substantially better job on this essay than I have. Trust me on that. Among unassuming men of genuine accomplishment, I stand out as a preening failure. For writing this piece of tripe that I lay before you, I should be dismembered and my body parts dissolved in the caustic posole that Mexican cartels use to dispose of their enemies. Yet, instead, I ask you to read this. Forgive me.
(Based on the patently disingenuous apologies—"backward bragging"—that Inuit etiquette requires hosts to make before serving their guests traditional delicacies such as narwhal blubber and fermented eider duck, as described by the Danish polar explorer and anthropologist Peter Freuchen.)
Part One
I'm in the middle of Times Square on a summer's day, engulfed in a slow-motion stampede of tourists in M&M hats and Hard Rock Cafe shirts, and I think of Hölderlin, who frequently wrote about a world that the gods had abandoned ("Why is the sacred, holy dance no longer celebrated?/Why, as never before, is the brow of man unmarked by a god?"). Across the street, the bright red TMZ tour bus idles impatiently, and I have to piss, so I duck into Ellen's Stardust Diner ("Home of the World -Famous Singing Wait Staff"). Almost immediately, I'm confronted by a waitress, who tilts her head and clasps her hands together. It makes me extremely uncomfortable to be sung to, and I'm paralyzed with embarrassment. My worst nightmare is about to come true. She looks into my eyes and starts singing "If I Loved You" from Carousel—"If I loved you/Words wouldn't come in an easy way/Round in circles I'd go." Then I realize that if I close my eyes and split into multiple personalities, I can survive this.
Before I get on the bus, I dash off a tweet: "Reading Jeff Guinn's new Charles Manson bio. Will always love Ed Sanders's The Family. But in Guinn, Manson has surely found his Kitty Kelley."
A psychotically cheerful blond guy with a clipboard says, "You must be Mark," and I have a sort of PTSD flashback that I'm getting on a bus to a summer camp in the Adirondacks.
TheTMZtourbusis half fullat best. A series of television screens are cantilevered over the seats as on an airplane. The loud, thumping dance music cuts out, and the psychotically cheerful blond guy introduces himself as Mathew, the tour guide. He says he's Australian. He introduces the bus driver as Jacques and compares him to Jacques Cousteau (in the same way, I suppose, one could compare me to Mark Wahlberg or Mark Rothko).
My initial feelings about the tour are very negative. I assume it's going to be one of the most miserable experiences I've ever had, that I'm about to spend two hours during which the indescribable horror of meaninglessness will be interminably described. I feel as if I've broken out over every inch of my body in oozing pustules of psoriasis and impetigo and am suffering from tertiary-stage anal pruritus, and I'm convinced I will never see my family again. But I decide to try to keep an open mind.
Mathew assures everyone that this will be an interactive experience and that the TMZ tour bus is a "loving sharing friend zone," and as we head into Times Square he warns us against "catching an STD from a scary Elmo."
We've hardly been in the bus for two minutes when we bag our first celebrity. It's Mariska Hargitay, filming an episode of Law & Order: Special Victims Unit. She's not stumbling out of a club drunk or huffing glue or punching a police horse or dangling a vomiting baby over the observation deck of the Burj Khalifa or anything. She's just doing her job, so it's slightly disappointing. Mathew suggests that she seems taller in person than she does on TV. And then, just like that, we have our first interactive moment. Mathew muses out loud that Mariska Hargitay is "related to someone famous." And a passenger yells out, "Jayne Mansfield!"
Of all the actors who've appeared on all the many-splendored Law & Order spin-offs, my absolute favorite is Kathryn Erbe, who, from 2001 to 2011, starred as -Detective Alexandra Eames on Law & Order: Criminal Intent. And my absolute favorite episode is season six, episode one, in which Eames is kidnapped, blindfolded, gagged and hung by her bound hands from a meat hook. For anyone who has ever had sexual fantasies about Kathryn Erbe, this is one of the finest examples of episodic television ever.
Mathew flicks on the TV screens, which show a TMZ story about Chris Brown appearing on Good Morning America and, after being questioned by Robin Roberts about his 2009 attack on then girlfriend Rihanna, storming off the set, trashing his dressing room and breaking a window with a chair. Mathew flicks off the TVs and asks us if we're aware that Chris Brown recently had a seizure. "He claimed it was from too much publicity.…" There's a beat. Then a campy, incredulous guffaw.
As we pass Parsons the New School for Design, Mathew does a Tim Gunn impersonation: "Designers, make it work." Then he adds, in his own Australian accent, "Tim Gunn is asexual and celibate. His only boning is in a corset."
It dawns on me that the TMZ bus tour is a quaint exercise in anachronism, like a buggy ride through Amish country. Who really needs TMZ when we've got drone-mounted biometric optical surveillance systems? In this age of ubiquitous panoptic domestic espionage, aren't we all notorious reality stars? (The tour ticket itself states that TMZ "may record you in conjunction with the tour. And air footage on TV, web or other media. Who knows," it speculates, "it might even make you a star!") And in this DIY world of selfies, isn't everyone his own worst paparazzo? So many of us have had minor and fleeting brushes with fame (which has been in a deflationary tailspin for decades now) that we're all -celebrity manqués in one way or another, though some of us are more resentful and embittered than others. (When I see red carpets, I dream of bloodbaths.) As for TMZ on TV, no one is sitting in his living room watching TV anymore. The kids are soaking tampons in digital emulsions of programming and sticking them up their asses.
My notes simply say, "Justin Bieber pees in a yellow mop bucket." In all honesty, I can't remember if that's something Mathew mentioned or if it was something from the TMZ on TV clip that popped up on the screens, or if it was perhaps just the beginning of a new poem I'd started writing. Anyway, then Mathew says, "Did you guys see Justin Bieber naked this morning?" and he walks up and down the aisle of the bus showing everyone a photo of Bieber's butt on his cell phone.
Mathew calls Flo Rida "my good friend" and then, as we pass Madison Square Garden, tells us Taylor Swift sold out the venue in 60 seconds, which he says "is longer than most of her relationships!"
We're now in front of Katie Holmes and Suri Cruise's apartment building, the Chelsea Mercantile at 252 Seventh Avenue. Mathew informs us that Nick Jonas also lived here and that Anderson Cooper and several members of the Jersey Shore cast have patronized Beach Bum Tanning across the street, and then the TVs flash on, and there's John Mayer addressing the camera, saying, "Harvey Levin, I've got pictures of your nuts," and then an announcer declares, "He's boned some of Hollywood's hottest talent!" And then Mathew walks up and down the aisle, showing everyone a photo on his cell phone of John Mayer in what he calls a "Borat bikini."
Identifying the apartment building of Tiger Woods's ex-mistress Rachel Uchitel, between 14th and 15th streets, Mathew says, "Tiger offered her $10 million, but she blabbed and went on Celebrity Rehab," and then quips, regarding Tiger's current romance with alpine ski racer Lindsey Vonn, "I hope that relationship doesn't go…downhill!"
As we enter the Meatpacking District, Mathew reminds us that it "used to be a crap hole with drugs and transvestites." He enumerates several of the area's most notorious gay bars and sex clubs of yesteryear—the Manhole, the Mineshaft, the Ramrod. "You know what kind of meat they were packing there," he says darkly. Then he has one of his weird mood swings, suddenly all bright and chipper: "Now it's one of the trendiest neighborhoods in NYC!"
Mathew continues jabbering to himself in a private nonsensical language that only he (and apparently everyone else on the bus) understands, as I work on a couple of tweets: "Reading about Achilles defiling the corpse of Hector gives me a hard-on. Does this mean I'm a fascist? Gay?" and "Anyone know how to remove white stains from hyena excrement from black leather jeans?"
"We saw Usher the other day," Mathew announces, prompting him to redefine the bus tour as a safari. "We're hunting celebrities in their natural habitat!" He flicks the TVs back on, and an announcer screams hysterically that we're in the "Lindsay -Lohan Terror Zone!" Mathew brings us up to speed: She was just released from rehab, where she was supposedly endeavoring to kick her Adderall addiction; Oprah's offered her $2 million to do a series and convinced her not to move to Europe; her recent stint guest-hosting Chelsea Lately garnered fairly favorable reviews. "She was really good!" someone yells out. (It's the same passenger who knew about Mariska Hargitay's relation to Jayne Mansfield.) After pointing out the alley adjacent to the Dream hotel where Lohan clipped a pedestrian with her Porsche Cayenne, Mathew declares, his voice cracking with genuine fervor, "We can't lose Lindsay!"
"On your left is the Gansevoort hotel. Kim Kardashian stayed here. It cost $7,000 a night! Ryan Seacrest paid! Keep your eyes peeled. Last week we saw that little guy from Game of Thrones!" As we roll past the Griffin (on Gansevoort, between Washington and Greenwich), Mathew discloses that Chris Brown and Rihanna once spent 20 minutes in the nightclub's bathroom. "What do you think they were doing in the bathroom for 20 minutes?" he wonders. I brace myself for the chipper voice of that know-it-all passenger, but there's just an ambient murmur of speculation, and before we're able to pursue the matter in greater depth, we're across from Hogs & Heifers Saloon, where Julia Roberts took off her bra on top of the bar.
Apropos of the Industria Superstudio, Mathew deduces, from the fact that they haven't been photographed together recently, that Victoria's Secret model Miranda Kerr and actor Orlando Bloom may no longer be together, and then he declares the restroom on the bus is very clean because "no homeless people use it." He identifies some graffiti spray-painted on a building by Jim Carrey; the Spotted Pig, co-owned by Jay Z; a house once owned by Kiefer Sutherland; Julianne Moore's place on Greenwich and 11th, from which, Mathew says, $127,000 in Cartier jewelry was -stolen; Jennifer Aniston and Justin Theroux's condo on Hudson and 12th ("They moved. She hated New York"); the Bleecker Playground, where Katie brings Suri; the Magnolia Bakery, where Katie brings Suri; and the Charles Street brownstone where Sarah Jessica Parker and Matthew Broderick live, and though I don't know whether or not Katie brings Suri there, I do know (thanks to Mathew) that Sarah hosted a $40,000-a-plate fund-raiser for Obama there and that Aretha Franklin loved the chicken, though Mathew just can't believe they'd serve chicken at a $40,000-a-plate fund-raiser. A little later, when we approach the W.i.P. nightclub (site of the notorious Chris Brown–Drake brawl), Mathew blurts out, "Drake is a rich Canadian Jew!" but he really can't seem to believe it either.
He flicks on the canned TMZ footage that decrees Tribeca "Robert De Niro Land," though Mathew is quick to point out that the actor actually lives in a $20 million home on Central Park West and that there was recently a serious fire in his apartment caused by a dryer's overstuffed lint trap. Again Mathew finds this almost impossible to believe. It's all so crazy! "A stuffed lint dryer? Really? A stuffed lint dryer?"
I get a text from my dad, reminding me—somewhat plaintively—that I'd promised to spend several days with him out in the country to commemorate his upcoming 82nd birthday.
Jacques steers the bus onto North Moore Street, and Mathew indicates the home of the late John F. Kennedy Jr. He explains his theory—based on his reading of Fifty Shades of Grey—that JFK Jr. had a "sex dungeon" in there. Again, Mathew's theory is based on a damning absence of evidence. "No one has seen a photo inside the house—ever," he tells us. Ergo, there must be a sex dungeon. Isn't it equally plausible that the lack of photographs also implies that chemical weapons such as VX and sarin (or at least precursors such as monoethylene glycol and potassium cyanide) were being manufactured and stockpiled in the sex dungeon of JFK Jr.'s penthouse co-op? Can you just say anything to a bus half full with tourists? That Miley Cyrus was a Gestapo informant during World War II? That J.D. Salinger used gynecological instruments as serving utensils?
"Is that Lance Armstrong?" Mathew wonders out loud as we pass Jay Z and Beyoncé's loft at Hudson and Desbrosses. "Bethenny Frankel lives there too." Approaching the Trump SoHo, Mathew tells us the first of several candid autobiographical stories. "I saw Jane Lynch from Glee and I chased her down the street. She ran into Starbucks. It turned out this was the day Cory Monteith died. I felt so bad." He flicks on the TVs as we roll by the park where Jonah Hill took cell-phone pictures of a homeless woman's placenta moments after she gave birth. Apparently a posse of TMZ correspondents were following the actor around and everyone -serendipitously happened upon the nativity scene at the same time. Hill's tweet is legendary: "Craziest thing I've ever seen. A woman gave birth next to me in a park. I took a picture of the placenta and TMZ caught me. Embarrassing."
We're in the Village, in front of the Bitter End, where, many years ago, Lady -Gaga started performing on open-mike night at the age of 14 with her mother. "I spent an entire night hanging out with Lady Gaga in Japan," Mathew tells us excitedly. "I tweeted her to come hang out. She showed up! We got absolutely wasted! It was a karaoke bar with a glow-in-the-dark, adult-toy theme. I slapped Lady Gaga across the face with an adult toy!" Mathew walks up and down the length of the bus showing everyone a photo on his cell phone of him and Lady Gaga. (There are no marks on her face.) "Did you guys see her doing naked yoga?" In all the time I've known Mathew, I've never seen him this excited.
I wonder if anyone's interested in me? In what I'm doing right now? I'm neither a celebrity nor homeless. But I once helped Chris Chelios butcher a deer. In Malibu! I was on an elevator once with Steven Tyler. He even called my wife "Marcy." He said that was his favorite name! (Her name is Mercedes.) I once almost asked Arthur Miller what it was like to fuck Marilyn Monroe. (I was wasted!) And I thought I saw Kate Middleton on the elliptical at my gym in Hoboken. So in case anyone's interested in what I'm doing…well, I'm just sitting here in my seat, fidgeting with the footrest, texting my dad.
Idling in traffic in front of the SoHo store Dash, Mathew asks, "Who's your favorite Kardashian female?" He can't wait for an answer. He's still all worked up. "Mine's Bruce!" he shouts. "Bruce is whipped!" There are isolated murmurs of assent. "What do you think of Kanye?" he asks. A passenger proffers a tentative "Douchebag?"
"He's an absolute idiot," Mathew cackles.
I'm not sure where I read this, but neuroscientists using brain-scanning techniques are able to identify measurable biomarkers for specific celebrities in people's brains. Just as there are specific receptors in the brain for cocaine and cannabinoids, there are specific receptors for, say, Jennifer Aniston (in Area 25—the subcallosal cingulate region) and for Khloé Kardashian (in the right anterior insula). So somehow, in the Late Cretaceous period, we were hardwired to recognize and respond to celebrities who wouldn't exist until millions of years later. I'm not sure if this proves or disproves the existence of God.
We have inexorably arrived at the home of the late Heath Ledger on Broome Street in SoHo. TMZ takes enormous pride in having broken the "sad news" of his tragic death. (It was also first to break the news of Michael Jackson's death and first to report the death of actress Brittany Murphy.) Mathew tells us Mary-Kate Olsen was the first person called. (Diana Wolozin, the massage therapist who discovered Ledger's body, used the speed dial on his cell phone to call Olsen in California before dialing 911.) Mathew wonders why Olsen was called and whether she responded with her signature catchphrase from Full House: "You got it, dude."
To say that this is all recycled pabulum, that there's absolutely nothing you hear on this tour that couldn't be gleaned from the cover of any tabloid magazine, nothing a pilot couldn't point out from 30,000 feet or that only a person who'd been in a persistent vegetative state for the past decade would find any of this the least bit interesting, would be easy and contemptible.
Sometimes, though, for long stretches, Mathew's running commentary loses any linguistic meaning for me and becomes a series of hisses and pops, and my mind drifts back to my childhood in Jersey City.… I was an exquisitely sensitive little boy who looked upon other children my age as swine, as boors and as philistines and cringed at their approach. My pale, ethereal mother would prepare me a lunch of cream of mushroom soup, with banana Turkish Taffy for dessert, and she'd read me folktales from the Brothers Grimm as I ate, exertions that left her almost too exhausted to fend off the coarse advances of the various hook-nosed peddlers who seemed to be endlessly ringing our doorbell. I was fascinated by the nuns who seemed to float across the boulevard on rainy afternoons. I got my first hand job from a schizophrenic girl with webbed fingers.
Apropos of Canal Street ("Land of the Knockoffs"), Mathew tells us a story about shopping in Dubai and then, as we head uptown on the West Side Highway, about how, when he worked at a gym called Barry's Bootcamp, he used to see Anne Hathaway and David Hasselhoff, this somehow segueing into an oddly somber (is Mathew, like, bipolar?) rant about Michael Jackson and how "we should remember him for the good stuff."
Then we play Celebrity or Homeless Person. Mathew flashes the photo of a bedraggled person (face obscured) on the dangling TV screens, and we guess whether it's a celebrity or a homeless person. It's Courtney Love! Celebrity! The winner (who gets a TMZ T-shirt and who, I'm fairly certain, is the same person who knew Mariska Hargitay is related to Jayne Mansfield and who thought Lindsay Lohan was a great guest host on Chelsea Lately) says, "I won a beanie on the L.A. TMZ bus tour!"
Mathew tells us that André Balazs is dating Chelsea Handler, and that Sting and Trudie Styler (who supposedly practice "tantric sex") boned in a bathroom at the top of the Standard hotel, and that Katie Holmes takes Suri to Chelsea Piers for gymnastics lessons, and that the pilot who miraculously landed US Airways Flight 1549 (after its collision with a flock of geese) on the Hudson River is named "Sully," and for a moment I think I see Diana Nyad swimming in the Hudson, but then I realize it's just a cardboard box…and the TV screens come back on with old stories about Zac Efron in a sex shop on Seventh Avenue, and also Casper Smart, "J. Lo's boy toy," at a sex shop, which prompts Mathew to exclaim, "Good for her!" and then call Farrah Abraham (the erstwhile star of MTV's Teen Mom who made a porn film called Backdoor Teen Mom) "a terrible role model," and now, inevitably, it's time to talk about Amanda Bynes, or "Lindsay 2.0."
Mathew asks us to enumerate Amanda's recent contretemps, and passengers yell out, "Dressing room!" "Selfies!" "Wigs!" To which Mathew adds, "She threw a bong out of her apartment window at the Biltmore! She calls everyone ugly! She started a fire in L.A. with a gasoline can in the driveway with her pet Pomeranian. She was arrested. And now she's in a mental hospital. She's schizophrenic. Her parents are getting conservatorship. TMZ knows all the drugs they're giving her." And then he pauses, his tone falling to a much more somber register, and says, "It's sad. I hope she gets better. We do love Amanda Bynes."
We pass by the Ritz-Carlton on Central Park South and hear the story (-corroborated by footage on the TV screens) of Britney Spears almost dropping her baby as she disembarks from a town car with a drink in her hand, and then (passing the Plaza) the tale of Charlie Sheen and porn star Capri Anderson and the $165,000 Patek Philippe watch she purportedly stole from him.
Mathew tells us he has a degree in pop culture, specializing in pop music, and that he's on TMZ on TV every Tuesday. "You could not ask for a better boss," he says, speaking of Harvey Levin. "He's extremely short. Well, maybe it's just that I'm very tall." And then, after a story about how Al Roker shit in his pants at the White House after undergoing gastric-bypass surgery, Mathew discloses that he was a finalist on Australian Idol. "I just finished my album today. Harvey is going to help me promote it!" And then he reveals for the first time his full name: Mathew Chadwick.
We play one more round of Celebrity or Homeless Person (this time it's Sylvester Stallone), and as the bus pulls up to our original port of embarkation across the street from Ellen's Stardust Diner, Mathew asks for tips. We file out, and some passengers pose for pictures with Mathew.
Accompanied by Andean panpipe music and the aroma of sweet nuts and hot pretzels, I make my way back toward the Port Authority, passing en route the figure of Samuel L. Jackson in front of Madame Tussauds and a live sword swallower in front of Ripley's Believe It or Not.
I have to piss (I never had the opportunity back at Ellen's Stardust), so before catching the 126 bus back to Hoboken, I dart into the men's room. You wouldn't think the overpowering stench of sodden urine cakes, flatulence and rancid body odor, plus a general ambience of degenerate anomie, would seem like a breath of fresh air, but it is. Oh, it is. It shows you how salutary—as a kind of aversion therapy—an inane scam like the TMZ bus tour can be. Dare I say it? It's real in here, yo.
The man at the urinal next to me is expressing some sort of white liquid from one of his nipples. It's disgusting but absolutely fascinating. Is he lactating?
Male lactation is extremely rare, occurring most notably in the Dayak fruit bat. It just goes to prove how easy it is to find someone genuinely exotic. After two hours on a celebrity safari, the best we came up with was Mariska Hargitay and Mathew Chadwick, and then I just duck into a men's room in a bus -terminal—and here's a lactating man who's half human, half fruit bat.
And after two hours of Mathew's relentlessly cheerful drivel, I'm oddly buoyed by the crush of sad men in here. Bald, toothless, sallow men. Palsied, limping, exhausted, abjectly sad men. Men whose brows are unmarked by a god. They make me unaccountably happy. I feel tremendous solidarity with them.
Interlude
Several days after the TMZ bus tour, I take a train out to the country to visit my father. I don't know the actual name of the town. It's somewhere out in western New Jersey, and I usually just refer to it as "Ker-munk-a-chunk" or "Lake Little Lake."
I spend a considerable amount of time studying hummingbirds. My dad's got a little hummingbird feeder filled with sugar water hanging off his back porch. (When I get back to Hoboken, I find the following turgid observation in my notebook: "I much prefer the insouciant wit and -punkish gesturalism of the hummingbird to the strenuous solemnity of, say, the dung beetle or the weevil.") And it's while gazing at a hummingbird hovering mid-air that I make the momentous decision to take the TMZ tour again, to conduct a sort of shot-for-shot remake (à la Gus Van Sant's Psycho), to try to rigorously recapitulate every moment of the original.
All in all, it's an exceptionally productive, pleasant visit. But there is one ugly incident. After my father comments that the untrimmed hair on the back of my neck makes me look slovenly, I explode in -oedipal rage and launch a volcanic profanity-laced diatribe about his supercilious carping that lasts for several hours. I stop only when I realize how disoriented and frail he looks. (Later, he tells me he felt perfectly fine and that I was the one who looked disoriented and frail.)
I think that in my personal life I behave very much like North Korea. I am almost always desperate for cash. And it's my timeworn tactic to raise tensions—to remind my "adversaries" (i.e., my family and friends) that I'm an unstable menace who needs placating—by sending wildly mixed signals, sometimes belligerent and at other times conciliatory.
Part Two
I make good on my commitment to scrupulously recapitulate, in every detail, my first TMZ bus tour and return to Ellen's Stardust Diner for another abortive attempt to urinate. This time the singing waitress who obstructs my path to the men's room looks into my eyes and intones "Love You I Do" from Dreamgirls.
I board the bus, taking the exact same seat I'd occupied the first time, though this time around two exuberant Australian -sisters-in-law are seated across the aisle from me, and behind them, with her dad, is an extroverted little girl who bears an amazing resemblance to Honey Boo Boo.
Mathew doesn't disappoint me in how extraordinarily consistent he is in his rote spontaneity, though there are several -notable variations. Instead of almost immediately seeing Mariska Hargitay filming a scene from her show in Times Square, we almost immediately see Dr. Mehmet Oz filming a scene from his. This time Mathew says, regarding Elmo, "When bad drugs happen to good puppets." Regarding Tim Gunn's asexuality and celibacy, he appends, "Serious case of blue balls." He randomly predicts that Madonna has a shelf life of 65 and says of John Mayer's Borat bikini, "It's disgusting. It's all hairy down there."
He claims, "Yesterday we almost saw -Gaga." (I've taken the TMZ bus tour twice now, and I still don't understand what it means to "almost see" someone.) When he says, "Kim Kardashian was married to Kris Humphries for…?" the Honey Boo Boo look-alike yells, "Seventy-two days!" Apropos of Hogs & Heifers, Mathew says, "Tyra Banks is horrific in Coyote Ugly," and concerning the bus restroom, he reassures everyone that there are "no homeless people in there!" He repeats his characterization of Drake as "a rich Canadian Jew" and expertly identifies Food Network star Anne Burrell exiting Da Silvano.
Meanwhile, I'm just whiling away the time, stewing in my own rancid solipsism, morbidly leering at the two sisters-in-law, who, it seems to me, haven't showered or eaten anything other than Doritos since arriving in New York and who dizzily giggle at every single thing Mathew says.
After reprising his story of getting wasted with Lady Gaga in Japan and slapping her across the face with an adult toy, Mathew adds, "It was one of the coolest things that ever happened to me." Approaching the store Dash, he cites Paris Hilton's comparison of Kim Kardashian's ass to "a garbage bag filled with cottage cheese" and says, musing upon the death of Cory Monteith, "Heroin is the opposite of Glee." After his homily about how we should remember Michael Jackson for "the good stuff," he adds that "his butt was so scarred that the syringes were just breaking off." Then he says, "This is the best tour I've done for a while!"
Then he divulges—and this is a major revelation—that he lives in Hoboken. Hoboken! I don't know exactly what I'm doing at the time (a series of potholes has made my notes illegible at this point)—probably still morbidly -leering and whiling away the time stewing in my own rancid solipsism—but when he says he lives in Hoboken (Hoboken!), I jerk forward in my seat as though I've been tasered.
Somewhere between the Ritz-Carlton and the Plaza, Mathew says, "I met Suri Cruise. She's a little brat." And he tells us an anecdote that involves calling Donald Trump a douchebag and Harvey Levin reprimanding him and saying, "Don't call Donald Trump a douchebag." Then Mathew tells us he said to Levin, "You're the smallest man I ever met in my life," though it's not completely clear to me that this remark about Levin's stunted growth was made during the same conversation as the one about calling Donald Trump a douchebag.
I receive a text from my father informing me that he is suffering from an extremely serious, painful and debilitating case of shingles. The outbreak presumably began several weeks ago and certainly overlapped with my visit. Now I feel a hundred times worse for having berated him with such disproportionate, bombastic combativeness. It never ceases to amaze me how sons—and especially the sons of successful and doting fathers—can become trapped in such endless cycles of resentment and guilt.
Like the dismembered head of Orpheus that floats down the river still singing of Eurydice, Mathew prattles on and on.… I had somehow forgotten from the first time that Al Roker shat his pants at the White House.
With the tour almost complete, Mathew asks, "Have any of you seen any celebrities?" And someone yells, "You!" Again, the allegorical implication of Mathew's celebrity (that the true celebrity was among us all the time) hits me like a thunderbolt, and I'm roused from my drowsy captivity. I had been unable to leave the bus, like a guest in Buñuel's Exterminating Angel, but now my imaginary shackles fall away. "Mathew, please sing!" pleads the Honey Boo Boo doppelgänger as we begin to file off. "Please, Mathew, sing!" Mathew demurs. "Help me stay off the stripper pole," he says, soliciting tips.
Again, the smell of hot pretzels and sweet nuts and the sounds of Peruvian panpipes as I tramp through Times Square. I stop at Champs to get an A-Rod T-shirt and then head to the Port Authority.
And again, I duck into the men's room. This time there's no lactating man. I piss and then pause to look at myself in the mirror.
It's a great relief, after squinting at the apparitions of pseudo-celebrities for two hours, to look at yourself in the mirror, to look at your own anonymous, moribund face. In my own eyes, I can see tiny nuns floating across the boulevard; perhaps it's just the degenerative debris that floats in the vitreous humor of the eye, but to me it's tiny Jersey City nuns.
There is something unspeakably consoling in one's own smile. In your reflection, you can discern the face of yourself as a child and the face of yourself as a corpse. And in this moment, all the fundamental antinomies are reconciled—the voyeur and the narcissist, the father and the son, the sacred and the profane, the celebrity and the homeless.
I get off the 126 on 14th Street in Hoboken to do some errands. I think I see Joseph Stalin buying condoms at CVS. But when he turns around, it's just some kid in an overcoat.
---
This article was originally published in the 60th Anniversary Issue of Playboy. Check out more from the issue at and from every issue in Playboy's complete archive, visit iplayboy.com.
Illustration by B. McGee